Is Salt Therapy Worthwhile?
What do you think of the salt therapy that's being promoted for relief of asthma, allergy and other respiratory symptoms?
Andrew Weil, M.D. | September 7, 2017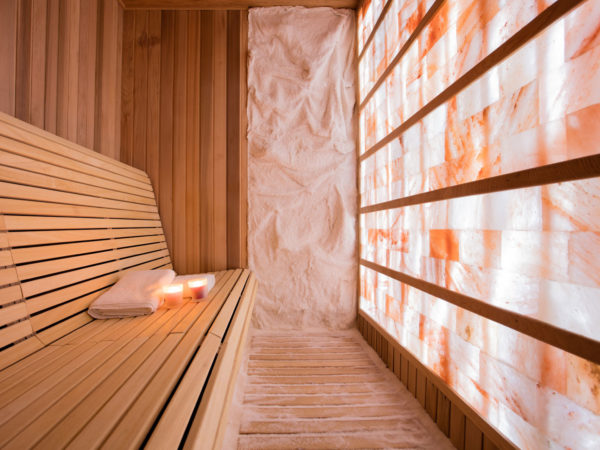 Salt therapy, also called halotherapy ("halo" is Greek for salt), has been around for centuries, practiced mostly in parts of Central Europe and Asia, where there are naturally occurring salt caves. I've read that during World War II improved health was reported among Germans who hid out in salt caves to escape Allied bombing. Prior to that, a Polish doctor noted that salt mine workers didn't suffer from the lung diseases and respiratory problems common in other miners.
In recent years in the U.S., salt therapy has become available as a spa service. Spas and stand-alone salt therapy enterprises are offering salt rooms and salt booths designed to mimic the natural caves. These enclosures are lined with blocks of salt; in addition, special machines grind salt into tiny breathable particles and blow them into the air.
Health claims made for salt rooms include improvement of skin conditions such as psoriasis and eczema as well as a number of respiratory problems, including colds, asthma, allergies, bronchitis and chronic obstructive pulmonary disorder (COPD).
In 2009, I wrote about the use of salt pipes for COPD. Their concept derived from the European salt caves, and the pipes are basically inhalers containing tiny salt particles that are said to ease breathing. At the time, I was unable to find any scientific studies of salt pipes in the medical literature. I checked with Norman Edelman, M.D., chief medical officer of the American Lung Association, who stated that he knows of no good scientific data supporting the use of salt pipes for COPD or asthma. Since then, a review published in 2014 of 151 articles on the use of salt pipes for COPD concluded that none met the quality of research required to show whether the pipes help.
In general, promoters appear to be careful not to make specific health claims, although I have seen suggestions that spending time in a salt room can help relieve arthritis pain and lower blood pressure as well as relieve respiratory symptoms. Again, there is no scientific backup for these claims.
There are about 300 salt therapy facilities nationwide. The New York Times reports that a session in one of them can cost from about $30 to $190 depending on the length of time you spend in the "cave" and the services (such as massage and a dry foot rub) included.
If you enjoy relaxing in a salt room, by all means do so. But don't expect any significant or lasting health benefits.
Andrew Weil, M.D.
Source:
Rashleigh et al, "A review of halotherapy for chronic obstructive pulmonary disease." International Journal of Chronic Obstructive Pulmonary Disease." February 21, 2014 doi:10.2147/COPD.S57511