Depression And Death?
Is there really a link between depression and early death? I heard that the risk is highest in men.
Andrew Weil, M.D. | August 13, 2020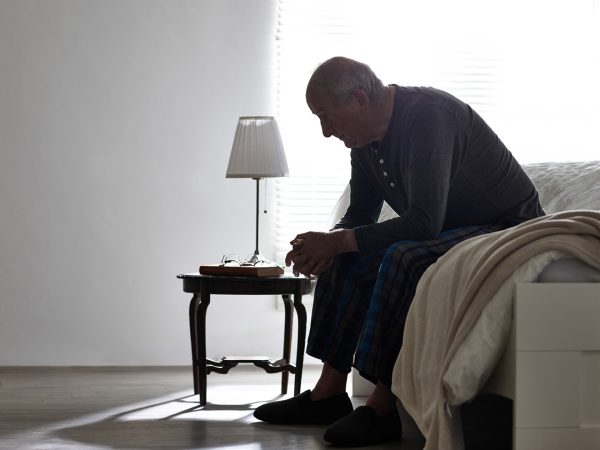 Researchers from Canada's Simon Fraser University have reported a connection between depression and a higher risk of heart disease and early death among mid-life people, mostly men. To reach this conclusion, investigators tracked 145,862 middle-aged people from 21 economically diverse countries and found a 20 percent increase in cardiovascular events and death among those who had four or more symptoms of depression. The team also found that the risks were twice as high in urban areas and more than twice as high in men.
The study, conducted between January 2005 and June 2019, included people age 35 to 70 from 370 urban and 314 rural communities.
The researchers reported that one in five Canadians will experience a mental health problem during their lifetime and that eight percent will experience a major depressive event. Health sciences professor, Scott Lear, Ph.D., who led the study, said experts expect an increase in the number of people dealing with mental health issues as a result of the Covid-19 pandemic.
Of the 61,235 men participating, 11 percent reported four or more depressive symptoms. The risk of cardiovascular disease among them increased as the number of depressive symptoms rose, being highest in those with seven symptoms and lowest in those with only a single symptom. Results also showed that the risk of heart disease and death was twice as high for people living in urban areas.
Professor Lear and his colleagues wrote that their data suggest that symptoms of depression should be considered as important as the traditional risk factors for heart disease, such as smoking, high blood pressure and high cholesterol.
According to the World Health Organization, more than 264 million people of all ages suffer from depression globally. About half of all cases go undiagnosed and untreated, even though depression is the most treatable form of mental illness. Symptoms include a sullen mood, feelings of hopelessness, guilt and anxiety, loss of interest in things that used to be pleasurable, change in appetite, change in sleeping patterns, inability to concentrate, a lack of energy or feeling run-down.
If you're experiencing depression, there is no more reliable form of treatment than regular aerobic exercise. Numerous studies have demonstrated the efficacy of a daily workout for improving emotional health and boosting self-confidence. I recommend 30 minutes of continuous activity, at least five days a week for best results. In addition, make sure you are not taking any over the counter or prescription medications that contribute to depression. Avoid antihistamines, tranquilizers, sleeping pills and narcotics, especially if you have any tendency toward depression. You should also be cautious about the use of recreational drugs, notably alcohol, cocaine, amphetamines, barbiturates, and cannabis. These substances may provide a temporary sense of relief but are likely to intensify depression if used habitually.
Andrew Weil, M.D.

Source:
Scott Lear et al, "Association of Symptoms of Depression With Cardiovascular Disease and Mortality in Low-, Middle-, and High-Income Countries." JAMA Psychiatry, June 10, 2020; DOI: 10.1001/jamapsychiatry.2020.1351