Preventive Acupuncture?
A friend of mine goes to an acupuncturist every few months – not to cure any disease, just because he says it leaves him feeling happier and healthier. Do you think this is a good idea?
Andrew Weil, M.D. | May 30, 2011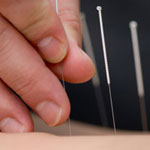 In studying acupuncture in the West we have focused mainly on its potential as a treatment for specific disorders. For example, research has shown that acupuncture can relieve chronic low back pain, dental pain, migraine headaches, fibromyalgia, and symptoms of osteoarthritis, as well as help emotional pain syndromes (such as post-traumatic stress disorder) and reduce chemotherapy-induced nausea and vomiting. It has even been shown to increase the chances of achieving pregnancy in conjunction with in-vitro fertilization.
However, in Traditional Chinese Medicine (TCM), acupuncture often is used preventively as a kind of "tune up," in keeping with TCM'S emphasis on health maintenance. Some acupuncturists in the U.S. offer such tune ups to tone internal organs or to prevent minor annoyances from becoming major problems. This use of acupuncture hasn't been investigated, so I can't tell you whether or not it actually benefits health. One study in Japan found that preventive acupuncture seemed safe and effective for warding off the common cold, but the researchers noted that more evidence is needed from randomized clinical trials. If your friend feels healthier and happier after his acupuncture sessions and can afford them, there's no reason why he shouldn't continue to get them.
I recommend receiving acupuncture from TCM doctors or others who use it as their main type of treatment. If the practitioner is not a physician, most states require completion of an exam conducted by the National Certification Commission for Acupuncture and Oriental Medicine (NCCAOM). For preventive acupuncture, make sure that the practitioner you select has experience in administering that form of therapy.
Andrew Weil, M.D.