Gua Sha For Headaches?
Can gua sha help with migraines?
Andrew Weil, M.D. | October 22, 2021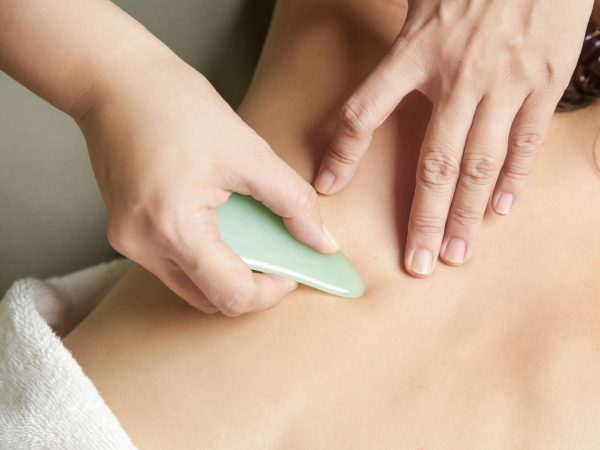 It might. A therapy of traditional Chinese medicine, gua sha is a centuries-old healing technique used to treat chronic pain. During treatment, a trained professional uses a smooth-edged tool to stroke and scrape your skin. The goal is to increase circulation in the soft tissue. Practitioners believe that gua sha can also address stagnant qi — universal life energy — and improve its flow throughout the body, reducing inflammation and promoting healing.
Some studies have examined the possible health benefits of gua sha. For example, in 2011, a randomized controlled trial looked at its effects on 48 people with chronic neck pain. Half were treated with gua sha; those in the control group were treated with a heating pad. The researchers found that the participants who received gua sha had significant resolution of their pain and improvements in their quality of life a week later, compared with those in the control group. Other case studies of individual patients suggest that gua sha is associated with reduction of migraine, decreased liver inflammation, and benefits in addressing other conditions, but more research is needed.
During treatment with gua sha, the practitioner — often a Chinese medicine practitioner, acupuncturist, or massage therapist —applies oil or balm to your skin. They then run the gua sha tool, which may be made of jade, stone, plastic, metal, or another substance, over the affected areas on your body. If you are receiving gua sha for musculoskeletal pain, the practitioner may focus on your back, neck, buttocks, arms, or legs and use deep, scraping pressure in a downward motion. On the head or face, the strokes will likely be lighter and less intense. The pressure of gua sha can result in broken capillaries and bruising. While this may appear alarming, it is temporary.
Andrew Weil, M.D.
Source:
"Why gua sha might be good for you," Cleveland Clinic, June 14, 2021. https://health.clevelandclinic.org/why-gua-sha-might-be-good-for-you/