Can Blood Flow Restriction Help Me Heal?
Is blood flow restriction therapy safe and effective to help rebuild muscle after surgery?
Andrew Weil, M.D. | March 22, 2022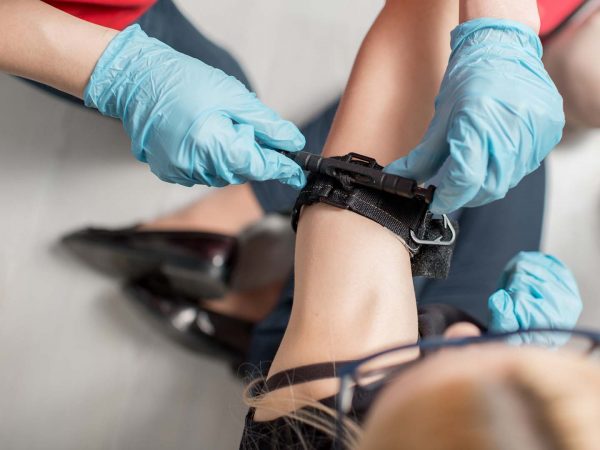 Yes. A therapy that's been popular for some time among athletes, blood flow restriction (BFR) is gaining acceptance as a way to speed healing from injury. But you don't need to be an athlete to benefit from it. This approach can be helpful for anyone recovering from certain types of bone or muscle injuries.
As its name suggests, BFR therapy works by limiting blood flow to the muscles. It involves the use of a tourniquet-like device that resembles a blood pressure cuff. The cuff is placed around the patient's affected arm or leg and restricts the flow of blood to the rest of the limb, a process known as occlusion. Next, the patient performs a series of specific exercises with a trained physical therapist. This routine induces the affected muscles to perform very efficiently. As a result, patients can begin to regain strength while lifting lighter loads. It also helps promote healing and prevent atrophy of muscles that might otherwise not be used due to injury.
Professional athletes and sports teams have used BFR therapy for a while now, and the technique is increasingly available. Specifically, it appears to work well in people with rotator cuff injuries, anterior cruciate ligament (ACL) injuries, and Achilles tendon injuries, as well as those who have a fracture with delayed healing. Research suggests that BFR therapy may also benefit people who have weakness in their knees caused by osteoarthritis or arthroscopic surgery. Although the concept appears simple, this is not a technique you should try on your own. Look for a physical therapist who has been trained in BFR therapy.
Andrew Weil, M.D.
Source:
American Physical Therapy Association. "What To Know About Blood-Flow Restriction Training," February 13, 2018. https://www.apta.org/patient-care/interventions/blood-flow-restriction/what-to-know-about-blood-flow-restriction-training