An Ayurvedic Route to Health?
I am considering undergoing the Ayurvedic treatment called Panchakarma for five days at an Ayurvedic center.  Do you think this is worthwhile?
Andrew Weil, M.D. | June 11, 2007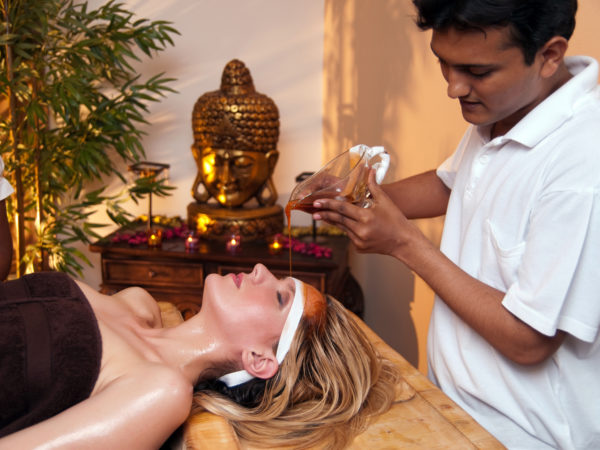 Panchakarma is an Ayurvedic cleansing program for body and mind. Ayurvedic medicine, which originated within the ancient Vedic tradition of India, defines health as a body free of toxins, a mind at peace, emotions calm and happy, wastes efficiently eliminated, and organs functioning smoothly. Panchakarma (literally "five works") is designed to restore health and wellness by cleansing the body of toxins with five methods: induction of vomiting, intestinal purging (with herbal laxatives), medicated enemas, nasal irrigation with medicated oils, and blood letting (traditionally with leeches or by cutting a vein.)
In modern Ayurvedic practice, people go to Ayurvedic clinics, spas, or resorts for Panchakarma, where they eat carefully prepared food (generally bland and warming, like rice mixed with lentils), reduce physical activity and stimulation, and avoid exposure to cold. They sit in steam baths and get frequent vigorous massages with oil and herbal extracts, all designed to mobilize toxins and facilitate their elimination from the body. The Ayurvedic doctor in charge of the facility prescribes the individual treatments and may suggest doing only one or two of the five methods, but, even so, the recommended time for Panchakarma is 14 to 21 days. Less than a week is cutting it really short.
Panchakarma is widely available in India (I underwent a 10-day version in Mysore a few years ago that focused on purging – I skipped the vomiting, enemas, and bloodletting). In the United States, the foremost authority on Panchakarma is Dr. Vasant Lad of the Ayurvedic Institute in Albuquerque, N.Mex., (www.ayurveda.com) and that is where I would send patients and friends to try it. In an introduction to Panchakarma published by the Institute, Dr. Lad explains that the particular therapies recommended depend on your constitution and disorder. Based on my experience in India, I'm not sure that it's possible to undergo authentic Panchakarma here. (For one thing, it requires the services of many therapists per client, and labor costs here would be prohibitive.) I suggest consulting Dr. Lad or one of his associates at the Ayurvedic Institute to check out the program you're contemplating and the practitioner who will supervise it.
Andrew Weil, M.D.