What Is Phubbing?
I've been hearing the term "phubbing" relating to smart phone usage, but I'm not sure exactly what it means or whether it is good or bad. I have to say I'm often annoyed by the near constant attention people give to their phones.
Andrew Weil, M.D. | January 10, 2017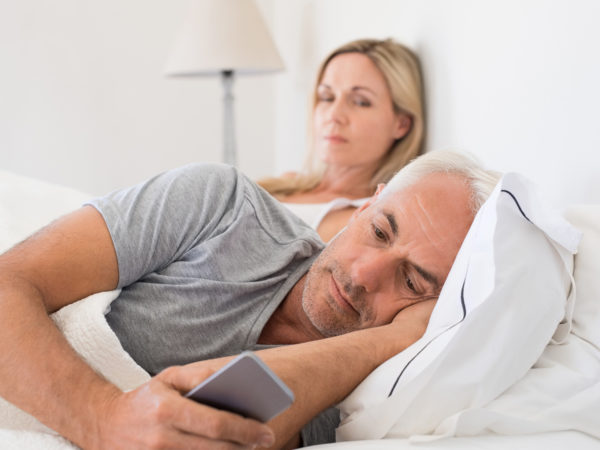 Phubbing is a term coined at a meeting of lexicographers and others at the University of Sydney in 2012 and included in the latest edition of the Macquarie Dictionary of Australia. It is a combination of "phone" and "snubbing" and means focusing on your smartphone and ignoring the people around you, an increasingly familiar behavior. Phubbing has become so commonplace in recent years that a scientific study from researchers at the University of Kent in the UK took a look at how it evolved and how it impacts human relationships.
The researchers weighed what they regarded as contributing factors – Internet addiction, fear of missing out, lack of self- control and smart phone addiction. They also considered how the increasing frequency of phubbing and being phubbed by others may lead to the perception that phubbing is normal.
Results based on responses to questionnaires from 276 individuals showed that those least likely to take their eyes off their phone screen when with other people are low in self-control and high in fear of missing out. They also ranked higher on scales for Internet and smartphone addiction.
The study showed that women phub more often than men. (53 percent acknowledged doing it in social situations at least twice a day compared to 28 percent of men). In addition, 67 percent of women respondents reported being phubbed themselves at least twice a day compared to 36.6 percent of the men in the study.
Another investigation from Baylor University in Texas looked at "Pphubbing," defined as "partner phubbing," – the extent to which individuals focus on their cell phone while with their significant other. It showed that 46.3 percent of 453 respondents to a questionnaire said their partners phubbed them, and 22.6 percent said the phubbing led to dissatisfaction with the relationship, which in turn led to higher levels of depression.
One of the British researchers was quoted in news reports as saying that people seem to view phubbing as a real social problem and even though they may not have heard the term, they are very familiar with the behavior and generally seem to be very annoyed by it.
Perhaps the most disturbing result of the British phubbing study is the finding that the more people felt phubbed, the more likely they were to become phubbers themselves.
Despite the fact that people don't like being phubbed, the sad fact is that this behavior is becoming ever more common. If you don't like being phubbed, don't phub.
Andrew Weil, M.D.
Source:
Varoth Chotpitayasunondh and Karen M. Douglas "How "phubbing" becomes the norm: The antecedents and consequences of snubbing via smartphone." Computers in Human Behavior, October 2016.
James A. Roberts and Meredith E. David, "My life has become a major distraction from my cell phone: Partner phubbing and relationship satisfaction among romantic partners." Computers in Human Behavior, January 2016.