Avoid X-Rays?
Is there anything we can do to reverse the damaging effects of x-rays? At 52 I no longer have mammograms, and I'm careful about dental x-rays too, which my dentist says are mandatory once a year.
Andrew Weil, M.D. | October 31, 2016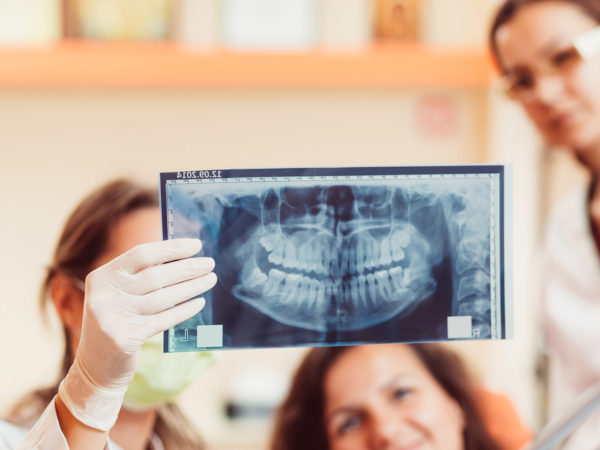 As you know, the effects of radiation exposure from x-rays and CT scans are cumulative. While these procedures are valuable medical tools, there's little doubt that they often are over-used. It's estimated that CT scans will lead to at least two percent of future cancers in the United States, some 29,000 cases and 15,000 deaths per year. X-rays are less of a threat since the amount of radiation they deliver is much smaller than that of CT scans. But they still add to cumulative risk.
As for dental x-rays, most people don't need them every year. According to a 2015 Consumer Reports investigation, these expose the average-size adult to a 0.005-millisevert dose of radiation, which is a very small amount. However, unless you develop a dental problem requiring more frequent monitoring, you can safely forego annual x-rays and opt instead to have them once every two or three years.
Mammograms also give you a relatively low dose of radiation, 0.4 milliseverts, which is equal to seven weeks' worth of exposure to natural sources of radiation, such as radon gas. Women between age 50 and 74 are advised to consider having a mammogram every two years.
CT scans are a different story. A single CT procedure can give you a radiation dose equivalent to 200 chest X-rays. One CT scan can harm tissue and create free radicals that can set off chain reactions that damage cells. These changes eventually can lead to cancer. You probably wouldn't connect a CT scan to the disease since it can take up to 60 years for cancer stemming from radiation exposure to develop, depending on your other risks. An Australian study published in 2013 determined that children and adolescents who had one CT scan from birth to age 19 had a 24 percent increased risk of cancer, and that each additional scan bumped the risk up another 16 percent. Children who had CT scans before age five had a 35 percent increased risk. Because of their continuing risk, we don't know how many of these young people will develop cancer over their lifetime as a result of their radiation exposure as children.
To avoid unnecessary exposure to radiation from X-rays and CT scans be sure to ask why a test is recommended, how the results will affect your treatment, and what would happen if you don't have it. Bear in mind that these tests may be necessary for diagnosing severe illness and injury and determining the best treatments for diseases involving vital organs and for other dire conditions. However, on average these cases represent a minority of the health problems most physicians see.
To reduce the damage radiation exposure poses I suggest eating a plant-based diet high in protective phytonutrients and taking antioxidant supplements. You can find my specific recommendations about antioxidants here.
Andrew Weil, M.D.
Source:
John D. Mathews et al, "Cancer risk in 680,000 people exposed to computed tomography scans in childhood or adolescence: data linkage study of 11 million Australians." BMJ, May 21, 2013 doi: http://dx.doi.org/10.1136/bmj.f2360