The Flood, Part Two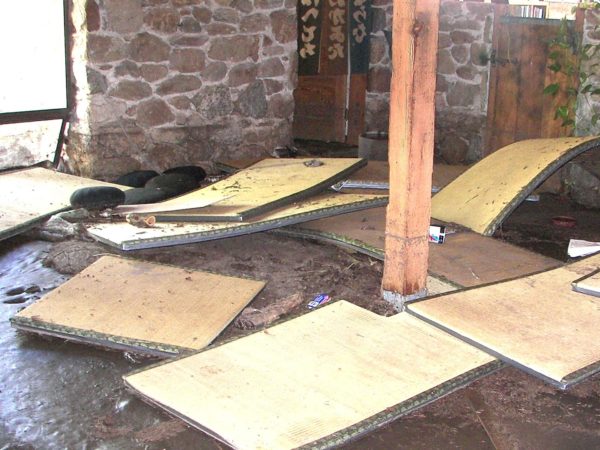 Floods move things into odd places. A couple of days after the devastating July 31st, 2006, event at Dr. Weil's  ranch outside Tucson, Arizona, (described in Part One), we were inspecting the guest house living room and found, tangled in the wreckage, a javelina – a wild pig – with a broken leg. Dena, the domestic manager, and I called Wildlife Rescue; they put it to sleep.
The effects of the flood were more than just physical. Those of us who were left to deal with the aftermath suffered a great deal of stress from both the devastation and the chaos of clean up and rebuilding. Most of us in Dr. Weil's employ, including me (I'm the gardener and landscaper), have worked here for many years. All felt his loss. It was very personal.
"There was a lot of time and effort that went into creating beauty in this spot," Dr. Weil said. "A lot of that has been destroyed. But we'll bring it back."
And, almost immediately, we set about to do that. For months we worked tirelessly. I personally was overtaken by a sort of hero complex that many experience in times of difficulty – my response was to overwork, and now, months later, I am feeling rather spent by it all. But it has been worth it. With support and genuine concern for each other we have been able to get through this difficult event, and while the place will never be quite what it was, it is getting better every day.
Now, a practical note. Normal homeowner's insurance does not cover floods, a fact that causes a lot of heartbreak when unexpected floods come and people discover their homeowner's policy is of no use. But it is possible to buy flood protection. The federal government's National Flood Insurance Program is administered by the Department of Homeland Security's Federal Emergency Management Agency (FEMA). The policies are purchased through insurance brokers, but I repeat, they are NOT part of normal homeowner's insurance, and must be purchased separately.
When he bought the place in 1994, Dr. Weil knew he was in a floodplain – in researching the ranch's history, he found that water had once come up to the front doorstep of the house. So he did the smart thing and bought flood insurance.
The insurance adjustor arrived about three weeks after the flood. He was a friendly Texan. He offered me some Spam. "Never go to a disaster site without a can of Spam," he said. "I've carried Spam with me ever since my oil field days. Never know how long you'll be away." I could not help but reflect that it was probably the only can of Spam at the ranch in fifteen years. He had coffee too.
Nancy, Dr. Weil's personal assistant, took him from building to building.
A disaster clean-up crew was hired immediately. They specialize in efficient and thorough remediation of spaces that have survived major damage from disasters: fire, flood, or messy crime scenes. They brought fans and heaters. They brought heavy duty, industrial strength de-humidifiers that sucked 25 gallons of water out of the air in one night. They drilled holes in the drywall to release moisture. They shoveled mud from porches. They sprayed mold killers. They mopped and moved soggy rugs. They piled debris on the patio.
They slammed and banged around for days, picking through heaps of the doctor's personal possessions, his books, his CDs, his shoes, his pillows, his knickknacks. Needless to say, their efforts were helpful, though somewhat disconcertingly matter-of-fact.
Now, there are long-term plans underway to prevent or at least minimize such an event in the future, via a system of berms between the ranch and the Rincon Mountains. So let me leave you with today's stress-relief tip: Find out if you are in a flood plain, and if you are, get insurance through your insurance broker!
By Jace Mortensen, DrWeil.com News
Photos by Ron Mortensen