In the News: Eat Fish, Be Happy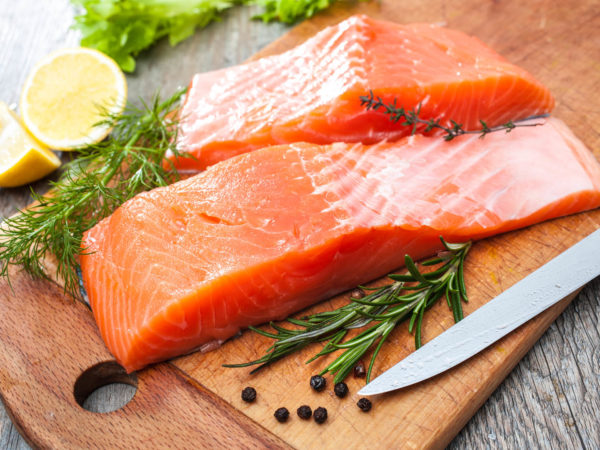 An American who visits Japan cannot help but be struck by how relatively happy people there seem to be. Despite crushing workloads, an economy that's been in the dumps for 15 years and grim, urban landscapes of concrete, the country's residents generally seem to smile, laugh and exude a sense of contentment. Statistics back up that impression: The Japanese have the lowest rates of major depression in the developed world.
Conversely, rates of major depression in the United States – land of open spaces, higher incomes, more social freedom and relatively little overcrowding – are roughly 30 times higher.
What's the Japanese secret? At least part of it may be: Fish.
Specifically, the omega 3 fatty acids in seafood of all kinds, according to Dr. Joseph R. Hibbeln, senior clinical investigator at the National Institute of Alcohol Abuse & Alcoholism, and perhaps the world's leading authority on the relationship between fat consumption and mental health. The average Japanese citizen eats about 145 pounds of fish annually, he said. The average American eats about 16 pounds.
But there is more involved than sheer poundage of fish eaten. On May 1, at the Nutrition and Health Conference in New York City, sponsored by the University of Arizona's College of Medicine and Columbia University's College of Physicians and Surgeons, Hibbeln laid out his case that an imbalance between omega 3 and omega 6 fatty acids in the American diet is a modern nutritional disaster. This imbalance, he said, appears to contribute not only to depression, but also dyslexia, hyperactivity, even a tendency toward violence and murder. Conversely, he said, bringing the fats into proper proportion appears to drastically alleviate those conditions.
Omega 3 fatty acids are prevalent in fatty tissues of fish, and to a lesser extent in a plant- based sources such as walnuts and flaxseeds – in other words, they are fairly rare commodities in the standard American diet. Conversely, omega 6 fatty acids are the type prevalent in most vegetable oils, particularly soybean oil. Incredibly, production of soybean oil for food consumption in the U.S. has risen 1,000-fold from 1909 to 1999, and is part of virtually every fried or processed food Americans eat.
"This now means that, on average, 20 percent of all calories in the U.S. diet come from one food source: soybean oil. That means that about 10 percent of all calories in the U.S. diet come from one molecular species: linoleic acid," said Dr. Hibbeln. "That is much different from 100 years ago. It is also different from the environment we evolved in. Four to five million years of human evolution occurred in a seafood-rich environment with no seed oils," he said.
The problem with too little omega 3 vs. omega 6 is that "the enzymes that process it are very promiscuous," said Dr. Hibbeln, meaning they will build cell membranes out of either kind of fat. Cell membranes "stuffed" with omega 6 fatty acids are associated with inflammation and almost every negative physical and mental health outcome one can name: heart disease, diabetes and mental disorders of all kinds, he said.
Conversely, cell membranes with abundant omega 3 fatty acids are associated with lowered rates of not only heart disease and diabetes, but also depression, prison violence and even murder. Hibbeln said lowered rates of seafood consumption correspond with a 100-fold increase in the murder rates between countries; with fish-shunning Bulgaria on the most violent end of the spectrum, and fish-loving Japan on the peaceful end. He also cited a 2002 study showing that adding vitamins, minerals and omega 3 fatty acids to British prisoners' diets dropped felony-level violent offenses by 37 percent in nine months.
Low levels of omega 3 may play a large role in postpartum depression. "It is very important for pregnant women to get sufficient amounts of omega-3 fatty acids, because the baby uses the mom as its source of these fats to form the developing brain," he said. "So if mom is not getting enough, she will end up depleted, because the omega 3 will go preferentially to the baby." Hibbeln said two recent trials showed a 50 percent reduction in post-partum depression in women with relatively high intakes of omega 3 fatty acids.
So what, specifically, should we do? Another presenter at the conference, Dr. Richard Deckelbaum, director of the Institute of Human Nutrition at Columbia, stated that the current intake of omega 3 fatty acids in the U.S. is "about one-third to one-sixth what we would consider the recommended levels." He and other researchers recommend simultaneously lowering omega 6 consumption and raising omega 3 consumption to rectify the imbalance.
Still, many are afraid to eat more fish because of concerns over pollutants. The two researchers echoed the long-standing recommendation of Dr. Weil, who advises eating fish that are relatively low on the food chain, which reduces accumulation of ocean-borne pollutants such as mercury in their tissues. "Larger, more carnivorous fish are more likely to contain dangerous levels of toxins. I avoid swordfish, marlin, shark, and bluefish for that reason," Dr. Weil said. Dr. Weil's recommendation, similar to that of Drs. Hibbeln and Deckelbaum, is to eat wild-caught salmon, herring, and sardines.
If you don't want to eat more fish, try supplementing with fish oils. Dr. Weil recommends seeking out oils that receive a five-star rating from International Fish Oil Standards (IFOS), a Canadian organization that assesses the purity of commercial fish oil supplements. Visit their Web site for a list of IFOS-recommended fish oils (www.nutrasource.ca).