How Safe Are Fitness Trackers?
Is my fitness tracker exposing me to dangerous electromagnetic waves? I don't sleep with my phone in my room to avoid exposure, but I wonder if it's safe to sleep with my fitness tracker?
Andrew Weil, M.D. | August 22, 2017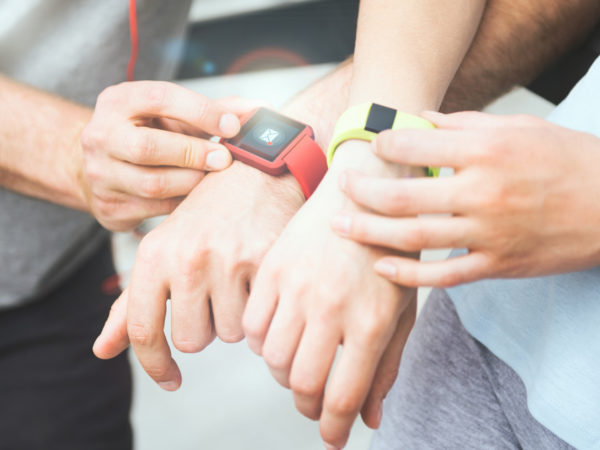 Fitness trackers that tell you how many steps you've taken daily, check your heart rate and count your calories use low-level radio frequency waves to transmit the information collected to your computer or smart phone. The question of whether or not this poses any danger to your health is one that has not yet been answered scientifically. But as epidemiologist Devra Davis, Ph.D., M.P.H., observed in a recent article on this subject, "The lack of proof of harm is not evidence of safety."
What we do know is that the non-ionizing radiation emitted by trackers is similar to but less energetic than that of cell phones, which the World Health Organization's International Agency for Research on Cancer has classified as "possibly carcinogenic to humans." And as you may know, the National Cancer Institute recommends limiting the time you spend talking on a cell phone held close to your head.
Dr. Davis advises taking your fitness tracker off your wrist while you sleep, because putting your hand near your head could expose your brain to the low-frequency waves. During the day, however, you're better off with the device on your wrist, rather than at your waist, to avoid exposing your internal organs to radiation. She also recommends choosing a device that must be plugged in to your computer or smartphone to sync data, rather than one that constantly transmits information. If your device comes with a wireless receiver, plug it into your computer or phone only once a day.
My main objection to the use of wearable devices for fitness or weight loss purposes is that they have the potential for generating anxiety, particularly among people with eating disorders and those prone to exercising excessively. In a 2015 article in the British Medical Journal, Des Spence, M.D., a general practitioner in Scotland, made the point that wearing a tracker can turn users into self-monitoring neurotics as they focus unnecessarily on their normal activities and vital signs. "The truth is that these apps and devices are untested and unscientific, and they will open the door of uncertainty. Make no mistake: Diagnostic uncertainty ignites extreme anxiety in people," Dr. Spence wrote.
To make matters worse, trackers aren't always as accurate as users assume. A Stanford University study published in May (2017) found that while six of the seven devices tested were less than five percent off in their measurements of heart rate, none came close to accurately counting calories burned. The closest count was off by an average of 27 percent, while the least accurate was off by 93 percent.
On the positive side, anything that helps motivate inactive people to get up and move – and meet realistic goals aimed at enhancing health – would certainly be worthwhile. But, to address your question, I would avoid wearing your tracker while you sleep.
Andrew Weil, M.D.
Sources:
Euan Ashley et al, "Accuracy in Wrist-Worn, Sensor-Based Measurements of Heart Rate and Energy Expenditure in a Diverse Cohort." Journal of Personalized Medicine, May 24, 2017, doi: 10.3390/jpm7020003
Des Spence and Itifat Husain, "Can healthy people benefit from health apps." BMJ, May 8, 2015, doi: https://doi.org/10.1136/bmj.