Vegetable & Tofu Stir Fry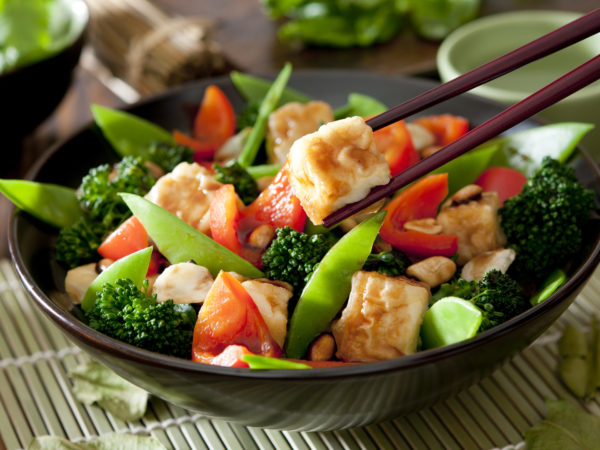 Nutrition
Serves 4
Nutrients Per Serving
Calories: 351.3
Protein: 15.1 grams
Fat: 10.6 grams
Saturated Fat: 1.3 grams
Monounsat Fat: 3.6 grams
Polyunsat Fat: 4.9 grams
Carbohydrate: 48.9 grams
Fiber: 6.4 grams
Cholesterol: 0.0 mg
Vitamin A: 12,756. IU
Vitamin E: 1.6 mg/IU
Vitamin C: 189.1 mg
Calcium: 185.3 mg
Magnesium: 163.1 mg
Why order in from your local Chinese place when you can make a restaurant-quality stir-fry in your own kitchen?
Why order in from your local Chinese place when you can make a restaurant-quality stir-fry in your own kitchen? Yours will be much healthier too! The idea behind stir-frying is to produce a mixture in which all the items are crunchy-tender and retain their colors and individual character, so it's important to stir the ingredients constantly over high heat. While a steel wok is the ideal pan for making stir-fry dishes because it distributes heat evenly, large flat skillets are nearly as effective.

Food as Medicine
Cultures whose diets are rich in soy foods such as tofu generally have significantly lower rates of heart disease than those with low soy consumption. The protein in soy foods has been shown to decrease LDL ("bad") cholesterol by up to 40 percent, as well as decrease triglyceride levels.
Ingredients
1 pound firm tofu
8 cups sliced vegetables (we suggest yellow onions, carrots, peppers, mushrooms, celery, broccoli, asparagus, mung-bean sprouts, bamboo shoots)
1 tablespoon expeller-pressed canola oil
2 cups cooked rice
Sauce:
1/4 cup dry sherry
1/4 cup natural soy sauce (low sodium if you prefer)
2 cloves garlic, pressed
2 tablespoons light brown sugar
1 tablespoon finely chopped ginger root
1 teaspoon toasted sesame oil
1 teaspoon arrowroot powder
Instructions
Slice the tofu in 1/2 inch slices. Press between layered paper towels or clean kitchen towels to dry well. Cut slices into 1-inch cubes. Arrange on a plate with prepared vegetables, separated by variety.
Combine sauce ingredients except for arrowroot powder in a small bowl and stir until sugar is dissolved. Mix arrowroot powder with just enough cold water to dissolve in a custard cup or teacup (you'll use less than 2 tsp water). Add to sauce, stir well and set aside.
Preheat a wok or large skillet.
Add the canola oil and vegetables (add the sturdier vegetables first, adding the more tender ones like mung bean sprouts later) and cook over medium-high heat until just crisp tender, stirring constantly.
Add the tofu and stir very carefully until the tofu is heated.
Stir sauce and pour around edge of wok. Stir vegetables around in sauce as it thickens.
Remove from heat as soon as sauce is thickened and serve over rice.