Hot & Sour Salmon With Greens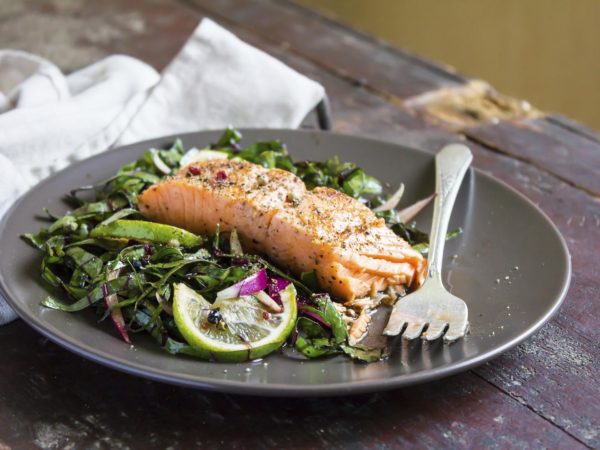 Nutrition
Serves 6

Recipe from "A Spoonful of Ginger" by Nina Simonds (Alfred A. Knopf, 1999)
The salmon in this recipe plays beautifully against the clean flavors of ginger, scallion and bok choy.
Since salmon is a slightly oily fish, it plays beautifully against the clean flavors of ginger, scallion and bok choy. There's nothing more soothing than tender, cooked cabbage; it is often prescribed in China for relieving stomach pain.
Food as Medicine
Wild Alaskan salmon is an excellent source of omega-3 fatty acids, which have been shown to benefit cardiovascular health and may help alleviate mild to moderate depression. 
Ingredients
6 wild salmon steaks, about 6 ounces each
2 1/2 pounds baby bok choy or bok choy, stem ends and leaf tips trimmed
8 to 9 whole scallions, ends trimmed, cut into thin julienne slices on the diagonal
3 heaping tablespoons fresh ginger cut into very thin julienne shreds
Dressing
6 tablespoons soy sauce
3 1/2 tablespoons Chinese black vinegar or Worcestershire sauce
1/4 cup sugar, or to taste
2 tablespoons minced garlic
Instructions
1. Trim the tough outer leaves from the bok choy and discard. Rinse the stalks and leaves and drain. Cut the stalks in half lengthwise. Cut the halves diagonally into 2-inch sections. In a bowl, toss the scallions and ginger with the bok choy sections. Arrange on a heat-proof platter.
2. Mix the ingredients of the Dressing, and pour into a serving bowl.
3. Preheat the oven to 450º F. Place the salmon steaks on top of the greens. Pour into a roasting pan several inches of water and heat until boiling. Carefully place the platter of salmon and vegetables on top of a rack or steamer tray in the roasting pan. Cover the top of the pan tightly with aluminum foil. Bake 7 to 9 minutes, or until the fish is cooked.
4. Serve the salmon from the heatproof platter or arrange the steamed vegetables and salmon on serving plates. Spoon some of the dressing on top and serve with steamed rice.