Juniper Berries For Health?
Do juniper berries have health benefits? Are they safe to eat?
Andrew Weil, M.D. | June 6, 2022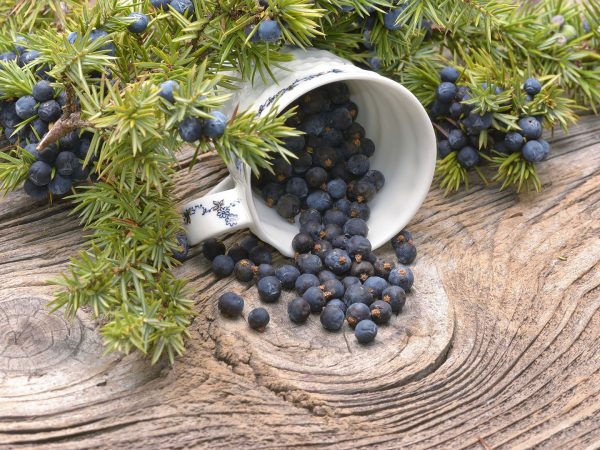 Despite their name, juniper berries are not true berries. Instead, they are the female seed cones of the juniper tree (Juniperus communis), an evergreen in the cypress family. Most juniper berries have a dark blue hue, woodsy smell, and pine-like flavor.
Although some people may be most familiar with juniper berries as a flavoring in gin, they have actually long been used both as a culinary seasoning and as an herbal remedy. For example, the berries are commonly found in Scandinavian dishes, often to complement wild game. There is evidence that juniper berries were also valued in ancient Greece and even used at the Olympic Games to purportedly increase stamina in athletes. They are considered a folk remedy for gastrointestinal woes, usually in the form of a tea.
Today, most of what we know about the potential health benefits of juniper berries comes from the laboratory: Like true berries, they are a rich source of vitamin C and also contain substances called monoterpenes (including limonene, camphor, and beta-pinene), which may have anti-inflammatory, antioxidant, and antibacterial properties. One study in rats also provides preliminary evidence to support juniper's use as traditional diabetes remedy by lowering blood sugar, although more research is needed.
Juniper berries appear generally safe, but there's some concern that they may irritate the kidneys if eaten in large quantities. For now, I recommend sticking to culinary applications by using small amounts of the dried berries in marinades or spice rubs.
Andrew Weil, M.D.
Source:
Kubala, J. "5 emerging benefits of juniper berries," Healthline.com. August 30, 2019. https://www.healthline.com/nutrition/juniper-berries