Honey vs. Maple Syrup?
Which is healthier — honey or maple syrup?
Andrew Weil, M.D. | August 27, 2021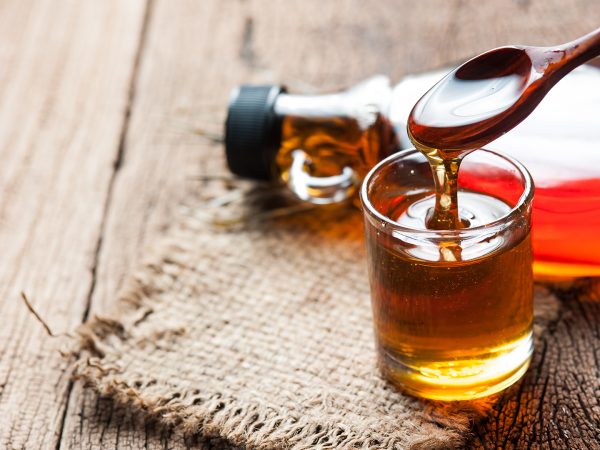 Although both of these natural sweeteners have a lot of similarities, they have some key differences, too. Those differences are what make maple syrup a healthier choice.
Both honey and maple syrup are sticky, viscous, amber-colored liquids that are often used as alternatives to table sugar, whether in baking or when added to tea and  other beverages. Honeybees produce honey from the sugary nectar of flowers and store it in honeycombs. Real maple syrup is made from the sap of maple trees, which is high in sugar in early spring. (Don't confuse it with "pancake syrup," an imitation product that typically contains artificial colors and preservatives and gets its sweetness from high-fructose corn syrup.)
The major differences between honey and maple syrup involve their nutritional composition. Both honey and maple syrup contain a similar amount of calories: One tablespoon of honey has 64 calories, while one tablespoon of maple syrup has 52 calories. At first glance, they may seem similar in carbohydrate content, too. Honey contains 17.3 grams per tablespoon and maple syrup 13.4 grams. But that's almost a difference of an entire teaspoon of extra sugar. Honey does contain small amounts of antioxidants, such as a vitamin C, while maple syrup is a much richer source of manganese, zinc, and vitamin B2.
For me, the tie breaker between these two sweeteners is the type of sugar they contain, particularly the amount of fructose. The body cannot metabolize fructose well; diets high in it derange liver function, promote insulin resistance and obesity, and increase risk of cardiovascular disease. The fructose content of honey is about 40 percent. That of maple syrup averages less than 4 percent.
For this reason, I view maple syrup as a healthier option than honey. However, it's important to remember that both maple syrup and honey are sweeteners, and that ideally, we should limit our consumption of all forms of sugar.
Andrew Weil, M.D.
Source:
Styles, Serena. SFGate.com, "Nutrition of pure maple syrup vs. honey," November 21, 2018. https://healthyeating.sfgate.com/nutrition-pure-maple-syrup-vs-honey-1756.html