What Is Allulose?
Can you tell me about allulose? I understand it is a sugar substitute. Is it safe to use? How does it taste?
Andrew Weil, M.D. | April 1, 2021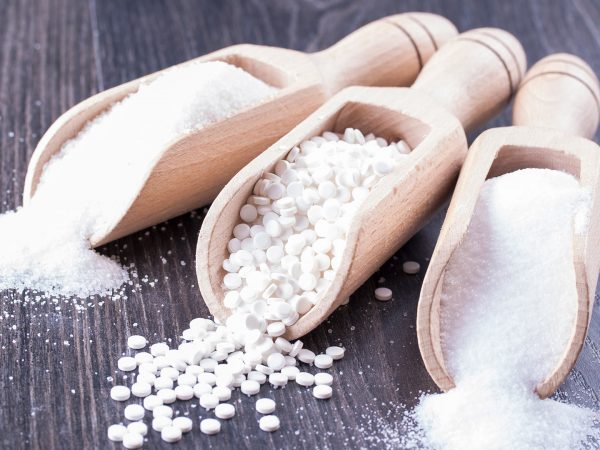 Allulose (also known as D-psicose) is considered a "rare sugar" that is being used as a substitute for sucrose. It occurs naturally in very small quantities in wheat, figs and raisins and tastes like regular sugar but has only one tenth the calories.  While 70 to 84 percent of allulose consumed is absorbed, it is eliminated in urine rather than used by the body as fuel.
Reportedly, allulose doesn't raise blood sugar or insulin levels in people with diabetes or prediabetes.  What's more, it appears to resist fermentation by gut bacteria, reducing any tendency to cause bloating, gas or other digestive problems. And some research suggests that allulose has anti-inflammatory properties and may help prevent obesity. Large amounts may provoke digestive discomfort, but there are few other known side effects.
The U.S. Food and Drug Administration has added allulose to the list of foods generally recognized as safe, but the sweetener has not been approved for sale in Canada due to its limited history of use in food. No timetable for releasing products containing allulose in Canada is available.
Most of what we know about allulose comes from research in rats. No toxicity or health related problems emerged in studies lasting up to 18 months. In human studies, doses of one to three teaspoons per day for up to 12 weeks weren't associated with any negative side effects. In both animal and human studies, allulose has been shown to lower blood sugar levels, increase insulin sensitivity and help protect insulin-producing pancreatic beta cells. Research in rats and mice has found that this sweetener may reduce the risk of fatty liver disease.
You may need to use more allulose than other sweeteners to get the taste you want, since it is only 70 percent as sweet as table sugar. (In a recipe that calls for one cup of cane sugar you would substitute 1-1/3 cup of allulose.)
While all this may sound positive, bear in mind that high-quality research in humans is still needed. I haven't seen any research or evidence showing that might affect the gut microbiome.
Andrew Weil, M.D.
Source:
Arshag D. Mooradian, "In search for an alternative to sugar to reduce obesity," Internal Journal of Vitamin and Nutrition Research, September 2019, doi: 10.1024/0300-9831/a00053