Seafood Scams: Avoiding Bad Fish?
I want to follow your advice and eat more wild-caught salmon for its many health benefits. But how can I be sure about the origins of the salmon – or of any seafood – that I buy?
Andrew Weil, M.D. | November 29, 2012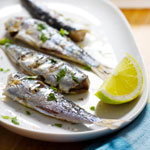 You pose a tricky question. Unfortunately, a considerable amount of fraud exists in the market for fresh fish, and it isn't always easy for consumers to get what they want, or what they pay for. In August of 2012, Oceana, an international advocacy group working to protect the world's oceans, found that 36 percent of seafood samples collected in Monterey, Calif., were mislabeled. The fish was bought by representatives of the local newspaper, The Monterey Weekly, at 17 retail outlets. DNA testing confirmed that one-third of the 19 samples were mislabeled. In 2011, Oceana collected 119 seafood samples from groceries, restaurants and sushi venues in Los Angeles and Orange counties and found that 55 percent of the fish tested was mislabeled. Oceana and the Monterey Weekly also reported that famed local Monterey Bay "sand dabs" available at some restaurants actually were juveniles of a flatfish species (flathead sole). None of the fish labeled as "sand dabs" was genuine.
None of this deceit in the marketplace is new. I contacted Randy Hartnell, president of Vital Choice Wild Seafood and Organics, to discuss your question. He said the best way to be sure of getting wild-caught salmon is to look for fresh, frozen, and canned salmon from Alaska. Salmon farming is banned in Alaska, and Alaska wild salmon is widely recommended.
Beyond seeking out fish from Alaska, Hartnell recommends patronizing knowledgeable and trustworthy vendors who stand behind their products. He noted, however, that mislabeling farmed salmon as "wild" is rampant in grocery stores and restaurants throughout the United States.
When you buy wild salmon or order it in a restaurant, pay close attention to the taste. Hartnell said that many people think they don't like salmon (and other seafood) because they've had a bad experience or think that it is normal for it to taste "fishy." That's not so. No matter what type of fish you're eating, a fishy taste signifies rancidity stemming from oxidation of the omega-3 fats it contains. Good quality fish should never taste fishy.
According to Oceana, about 1,700 different species of seafood from all over the world are now available in the U.S. so it is "unrealistic to expect consumers to independently and accurately" determine what fish they're buying or even eating. Oceana is calling on the federal government to ensure that the seafood sold in the U.S. is safe, legal and honestly labeled, including requiring a tracing system that would include information on when, where and how a fish is caught and how it moves throughout the supply chain – from boat to plate – so that consumers can make more informed decisions about the fish they eat. We'll see.
Andrew Weil, M.D.