Is There Lead In Your Tap Water?
Since we learned about the lead in the water in Flint, Michigan, I've read about other places where lead has been found in water. How can I tell whether my tap water contains any, and if so, is there anything I can do about it?
Andrew Weil, M.D. | September 1, 2016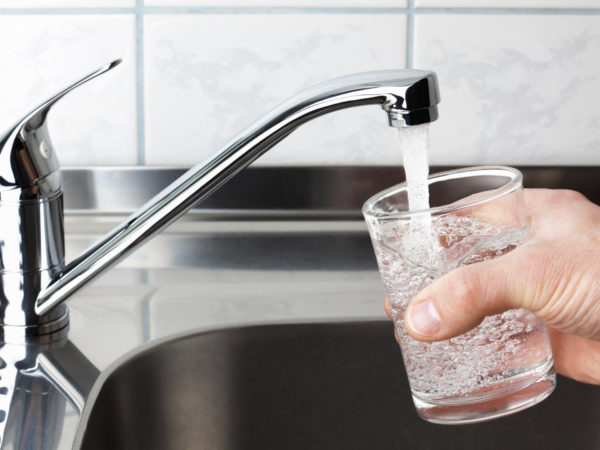 Lead can get into tap water by leaching from old lead pipes that deliver water to your home and from the solder that connects them. Although federal law banned the use of lead in plumbing materials in 1986, it's estimated that between 3.3 and 6.4 million old lead service lines are still in use, mostly in the Northeast and Midwest. You can find out whether lead particles are leaching into your water by asking the local utility that supplies it. Public drinking water utilities are required by law to test their water and disclose the results.
Alternatively, you can have your tap water tested. This usually requires collecting a sample of cold tap water that has sat overnight and another sample of cold water collected after you run the tap for one minute. You can send these samples to a state-certified commercial lab. Here is a list of labs in your state or obtain a list from your state or local drinking water authority. Home kits are available for testing water for lead contamination, but the results they provide aren't always accurate.
If you learn that your tap water contains lead, you can buy a filter to remove it. Check the Environmental Working Group (EWG) Buying Guide to find an appropriate filter. Prices range from less than $20 to more than $500, depending on the type and durability of the filter. Choose one that removes 99 percent of the lead in water. Don't assume that a pitcher filter will do the trick; many are not certified to remove lead. Whatever device you choose, be sure to change the filter as required. You can also use bottled water, but that will end up costing you more in the long run than investing in a filter.
If tests of your tap water show that lead is coming from the pipes in your house, consider replacing them. Lead presents health risks for young children, pregnant women and their babies.
You also can take these steps to reduce your family's exposure to lead:
Be sure to use filtered water for all drinking and cooking.
Note that cold water contains less lead than warm or hot water. (Boiling water does not remove lead so do not use contaminated tap water for cooking or making tea and coffee).
Whenever you haven't turned on the water in a particular faucet for six hours or longer, flush the pipes by running the water until it becomes cold.
There's no danger from bathing in water containing lead – it isn't absorbed through the skin.
Andrew Weil, M.D.
Source:
"Basic Information about Lead in Drinking Water," U.S. Environmental Protection Agency, https://www.epa.gov/ground-water-and-drinking-water/basic-information-about-lead-drinking-water#getinto, accessed June 1, 2016