Flame Retardant In Your Soda?
What can you tell me about brominated vegetable oil? I understand that it is in a lot of soft drinks and energy drinks and is also used in flame retardants. Is it safe to drink beverages that contain this stuff?
Andrew Weil, M.D. | February 8, 2013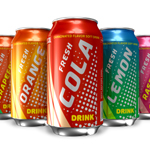 Brominated vegetable oil (BVO) was developed as a flame retardant for plastics and foam cushions, but it has been used in citrus-flavored soft drinks in the United States for decades to help mix the fruit flavoring with the liquid in the beverage. BVO is responsible for the cloudy look of these drinks. All told, about 10 percent of soft drinks in the United States contain BVO, which is banned in foods throughout Europe and in Japan. In the U.S., the FDA limits amounts of BVO in beverages to 15 parts per million. That may be safe enough, but we know that brominates from flame retardants build up in the body and in breast milk, and studies have shown that these chemicals are associated with physical problems in humans including neurological impairment, reduced fertility, early puberty and thyroid hormone changes. Beyond that, there have been reports that young people who binge on drinks containing BVO have developed skin lesions, nerve disorders and memory loss. Rats fed large amounts of BVO in lab experiments developed heart lesions.
The latest news on BVO is a PepsiCo announcement in late January 2013 that it will remove the controversial chemical from Gatorade but will continue to use it in Mountain Dew.
The continued presence of this ingredient in beverages has to do with regulation of food additives by the FDA. According to a review published in Environmental Health News in 2011, the agency approved BVO as "generally recognized as safe" (GRAS) in 1970 on the basis of reports provided by industry groups. Later that year, the FDA withdrew the GRAS designation but then approved the interim use of BVO in beverages as a stabilizer. That is its status today. Most of the data we have on BVO is decades old and comes from studies that aren't considered long enough to get an accurate picture of its health effects.
In Europe, natural compounds called hydrocolloids are used instead of BVO in soft drinks, and American manufacturers could replace BVO in beverages with hydrocolloids. Some U.S. manufacturers don't consider the hydrocolloids equal to BVO, even though outside experts disagree. The big obstacle to making the change appears to be the cost involved.
A related issue that concerns me is the fact that soft drinks are the largest source of calories for teens between the ages of 14 and 18 (and the fourth largest source of calories for adults). In my view, sodas of any kind – with or without BVO – don't belong in a healthy, well-balanced diet. Opt instead for filtered water, iced tea, and sparkling water mixed with a little natural fruit juice.
Andrew Weil, M.D.