Do Phthalates Lead To Weight Gain?
I've heard that phthalates in packaging materials can lead to weight gain. How much of that stuff is in packaging, and what can we do to avoid it?
Andrew Weil, M.D. | April 18, 2016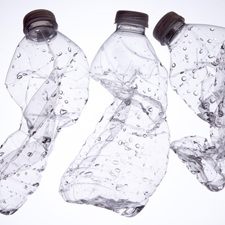 Phthalates are endocrine-disrupting chemicals found in some plastics. Although six specific types were banned in the U.S. in 2008 and have also been banned in Canada and the European Union, they are still showing up in food packaging. They've been suspected of contributing to weight gain for some time, and a study from Germany published in December 2015 concluded that the phthalate DEHP does indeed do so, and provided some clues as to how this occurs.
Researchers from Helmholtz Centre for Environmental Research, University Hospital Leipzig and the University of Leipzig noted that epidemiological studies have revealed correlations between increased phthalate concentrations in the human body and the development of overweight populations. They report that the chemicals are mainly transferred to the body by way of foods packaged in plastic, such as cheese and processed meats.
In studies with mice, the researchers found that phthalates promote weight gain by interfering with metabolism. The mice – particularly females – exposed to low concentrations of DEHP in their drinking water gained a substantial amount of weight. Phthalates increased the proportion of unsaturated fatty acids in the blood, disrupted glucose metabolism, and led to a change in the composition of receptors in the blood that are key for general metabolism. However, study leader Martin von Bergen said that it isn't yet clear "how the various effects of phthalates on metabolism influence each other and ultimately lead to weight gain."
Disturbing as it is that these chemicals play a role in weight gain, it is unlikely that their effect is as significant as that of genetic and lifestyle factors, such as poor diet. However, you can and should minimize exposure to phthalates by avoiding packaged foods and eating plenty of fresh ones, particularly fruits and vegetables. A study from the University of Washington published in 2014 found that a diet high in meat and dairy products exposed infants and teenagers to unsafe levels of phthalates.
In addition to food packaging, phthalates are in many other consumer products, including food containers, children's toys, plastic wrap made from polyvinyl chloride (PVC), as well as in some colognes, perfumes, hair products, deodorants, lotions and body washes. A study from George Washington University and the University of California San Francisco published in the journal Environmental Health in July 2015 found that women who use vaginal douches have increased levels of a breakdown product of diethyl phthalate (DEP) in their urine. Whether or not the phthalates in these products lead to weight gain, they should be avoided for their endocrine disrupting effects. You can learn more about phthalates in personal care products from the Environmental Working Group (EWG).
Andrew Weil, M.D.
Source:
Martin von Bergen et al, "Di-(2-Ethylhexyl)-Phthalate (DEHP) Causes Impaired Adipocyte Function and Alters Serum Metabolites." PLOS ONE, December 2, 2015; 10 (12): e0143190 DOI: 10.1371/journal.pone.0143190