Can Cola Cause Cancer?
I've heard that an ingredient in colas can cause cancer. Can you tell me anything about this, and if true, what sodas to avoid? Why isn't a cancer-causing ingredient banned from sodas?
Andrew Weil, M.D. | April 21, 2015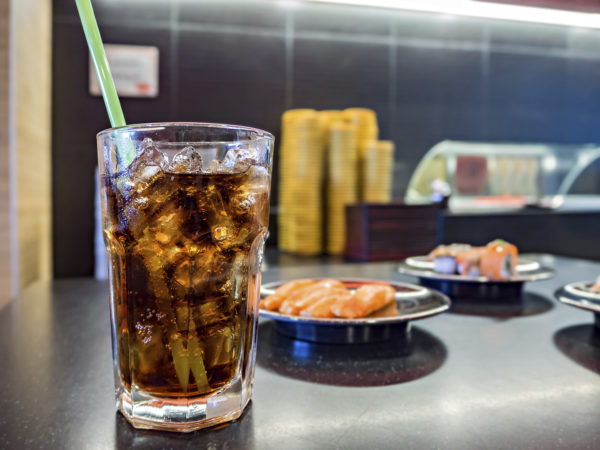 You're likely referring to a study reporting that up to 60 percent of Americans are exposed daily to a chemical called 4-methylimidazole (4-MEI). This compound is formed during the manufacture of some caramel colors used to darken colas and other sodas and is considered potentially carcinogenic. The extent of the exposure of so many people to 4-MEI was calculated by researchers at the Johns Hopkins Center for a Livable Future (CLF) after Consumer Reports published an analysis in 2014 of 4-MEI concentrations in 11 different soft drinks. The CLF reported that between 44 and 58 percent of people in the U.S. over the age of six usually drink at least one can of soda daily and thus have regular exposure to 4-MEI.
This exposure was characterized as an "avoidable and unnecessary cancer risk," since the caramel color is used only for aesthetic purposes.
Consumer Reports published its analysis of 11 different soft drinks while it was working with CLF to determine 4-MEI concentrations in products bought at retail stores in California and the New York City metropolitan area. Unfortunately, the researchers said, the study wasn't large enough to recommend or draw conclusions about specific brands. They found, however, that 4-MEI levels varied substantially across samples, even for the same type of soda. Tyler Smith, of CLF and lead author of the study, said "for diet colas, certain samples had higher or more variable levels of the compound, while other samples had very low concentrations."
In 2014, Consumer Reports petitioned the FDA to set limits on the amount of 4-MEI allowed in food and beverages; at present, there is no federal limit. However, in California a state law requires that any food or drink sold there must carry a health-warning label if amounts of 4-MEI exceed a specified level. The study also revealed that soft drinks samples bought in California had lower levels of 4-MEI than samples of the same beverages purchased elsewhere.
From my point of view, this study's results add up to another compelling reason to avoid soft drinks. We know from earlier research that the rate of metabolic syndrome is 48 percent higher among individuals who drink at least one soft drink daily (diet or regular) than among those who don't report drinking sodas of any type. And in 2014, another study from Johns Hopkins showed that diet sodas don't help you lose weight. In fact, it found that overweight and obese people who drink diet sodas unwittingly make up for the "no-cal" nature of these beverages by ingesting more calories from food than their peers who consume sugar-sweetened drinks.
Andrew Weil, M.D.
Sources:
Tyler Smith Keeve Nachman et al, "Caramel Color in Soft Drinks and Exposure to 4-methylimidazole: A Quantitative Risk Assessment." PLoS One, doi: 10.1371/journal.pone.0118138.
Sara N. Bleich et al, "Diet-Beverage Consumption and Caloric Intake among US Adults, Overall and by Body Weight," American Journal of Public Health, doi: 10.2105/AJPH.2013.301556. Epub 2014 Jan 16