Are Tenderized Steaks Risky?
Is it safe to eat tenderized steaks? I've seen the new labels from the government listing how long to cook this meat, but I don't understand the problem. Do I really have to cook the steaks as directed?
Andrew Weil, M.D. | August 30, 2016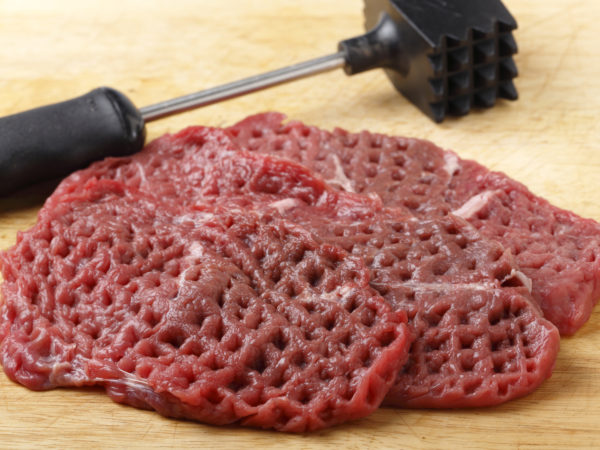 If you buy pre-tenderized steaks, you would be wise to follow the directions on the labels. Here's the story: steaks and other beef cuts are tenderized by a machine that punctures them with blades or needles. In this process, dangerous bacteria can be pushed from the surface of the meat into its center where they can survive if you don't cook the meat to the recommended temperature – 145 or 160 degrees Fahrenheit as measured by a meat thermometer. If you cook the meat just to 145 degrees, the U.S. Department of Agriculture (USDA) advises letting it rest for 3 minutes before serving. That wait isn't necessary if you cook your steak to 160 degrees.
According to the USDA's Food Safety and Inspection Service, about 11 percent of the beef sold in the U.S. has been tenderized, but until May 2016 when the new labels appeared on packaged meat, there was no way you could have known for certain if your beef was tenderized, since you can't see marks from the needles or blades. Even beef labeled "U.S. certified organic" can be mechanically tenderized.
The new label reads "Blade Tenderized: For your safety USDA recommends grilling product to a minimum internal temperature of 160 degrees as measured by a food thermometer."
The danger presented by blade-tenderized meat is real. Between 2003 and 2009 the U.S. Centers for Disease Control and Prevention (CDC) traced six outbreaks of foodborne illness to mechanically tenderized beef that was cooked at home or in restaurants. At least five outbreaks caused by E. coli O157:H7 resulted in 174 cases of illness and one death. The first of these outbreaks sickened 13 people, seven of whom had to be hospitalized. The meat in question was frozen filet mignon steaks that had been blade-tenderized and injected with a marinade for home cooking.
In 2009, 21 people in 16 states were infected with E. coli O157; 9 of them had to be hospitalized. One of these patients developed a potentially fatal kidney disease called hemolytic uremic syndrome. As a result of this outbreak, 248,000 pounds of beef were recalled. These cases may not fully represent the number of people infected. It's estimated that for every one case of E. coli O157:H7 reported, an additional 26 people are infected (although not all cases stem from tenderized beef).
Bottom line: if your meat comes with the new USDA label, don't take any chances. Follow the cooking directions.
Andrew Weil, M.D.
Source:
U.S. Department of Agriculture, news release, "USDA Finalizes Rule to Require Labeling of Mechanically Tenderized Beef Products", accessed May 26 2016, http://www.fsis.usda.gov/wps/portal/fsis/newsroom/news-releases-statements-and-transcripts/news-release-archives-by-year/archive/2015/nr-051315-01