Antibiotics In Fast Food?
Is it true that most fast food restaurants still use meat from animals given antibiotics? I thought chains were moving away from this, so it is distressing to hear that they haven't.
Andrew Weil, M.D. | March 3, 2016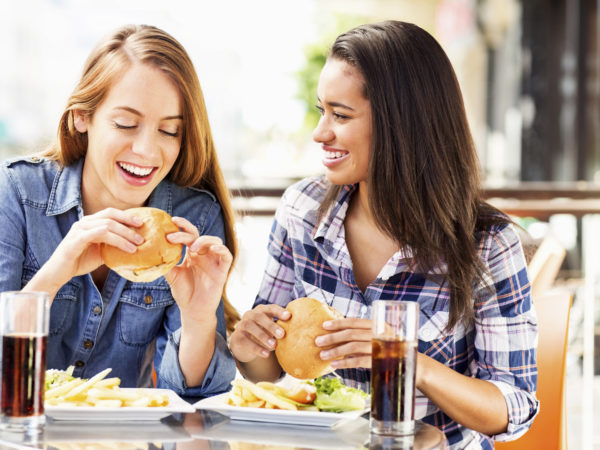 A report titled "Chain Reaction" published in September (2015) has revealed that 20 of the top 25 fast and casual food restaurants in the U.S. received a grade of "F" because they allow routine antibiotic use by their meat and poultry suppliers. Worse, the report notes that many of these companies haven't laid out any plans for changing this dangerous practice. It was compiled from documentation collected by Friends of the Earth, the Natural Resources Defense Council, Consumers Union, Food Animal Concerns Trust, Keep Antibiotics Working and the Center for Food Safety.
The chains that earned top grades were Chipotle Mexican Grill and Panera Bread, since both maintain policies that include strict limits on antibiotic use. Chick-fil-A was awarded a grade of "B," because it has set a goal of buying only chickens raised without antibiotics by 2019. McDonald's earned a "C" for its announced plan to use chickens raised without antibiotics important in human medicine by 2017. Dunkin' Donuts also received a "C" on the strength of its stated goal to bar its suppliers from using medically important antibiotics in healthy animals, although it hasn't set a target date for implementation of this goal.
Note that despite the passing grade it earned in the report, McDonald's has committed only to a deadline for using chickens raised without antibiotics, but hasn't set a similar goal for beef or pork. According to news reports, however, McDonald's is under pressure from some stockholders to stop buying meat from animals raised with antibiotics used to treat human infections.
The antibiotics fed to animals destined for the dinner table can result in the development of resistance to these medications in bacteria; the resistant bugs cause infections in humans that are becoming more and more difficult to treat.
The chains that were graded "F" have disclosed no goals for limiting or eliminating the use of medically important antibiotics in their meat and poultry supply chains. They are Applebee's, Arby's, Burger King, Chili's, Dairy Queen, Denny's, Domino's, IHOP, Jack-in-the-Box, KFC, Little Caesars, Olive Garden, Outback Steakhouse, Papa John's Pizza, Pizza Hut, Sonic, Starbucks, Subway, Taco Bell, and Wendy's.
This is a welcome report. It notes that Americans spend nearly half of their food budget on meals outside the home, which means that millions are exposed every day to meat and poultry from animals that have been treated with antibiotics. An astounding 70 percent of antibiotics sold in the United States are used in livestock.
I hope that by naming names this new report will generate consumer pressure on the chains that haven't taken action to curb the use of antibiotics by the suppliers of their meat and poultry. You can make a difference by urging your representatives in Congress to address this issue.
Andrew Weil M.D.
Source:
"Chain Reaction," Friends of the Earth, accessed September 16, 2015, http://webiva-downton.s3.amazonaws.com/877/d8/f/6472/FOE_ChainReactionReport.pdf