Time For Tiger Nuts?
What can you tell me about tiger nuts? I understand that they're the latest superfood, can help with weight loss and also stimulate growth of good bacteria in the digestive system. Is any of this true?
Andrew Weil, M.D. | September 2, 2016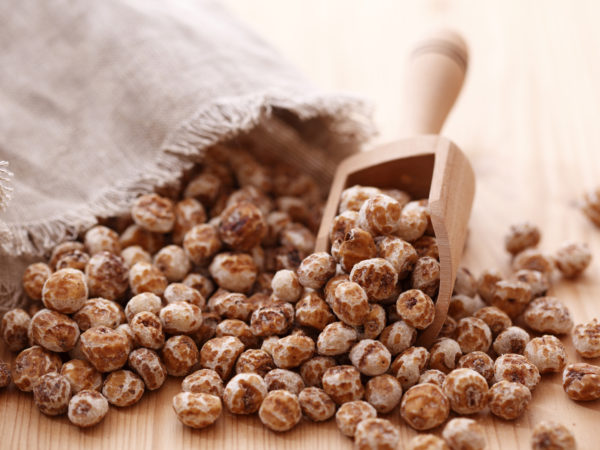 Tiger nuts aren't nuts at all. They're tubers that have been consumed for centuries in some parts of the world. They cling to the roots of yellow nutsedge (Cyperus esculentus), a weed regarded as an agricultural pest. Recent promoters claim the tubers were considered such an important food in ancient Egypt that they were often buried with dead dignitaries. Records from that time suggest that the "nuts" were roasted, crushed and served with honey or boiled and sweetened. Based on what I've read, until their recent makeover as a superfood, tiger nuts had fallen out of favor, except in some parts of Africa and in Spain, where they continued to be used as an ingredient in horchata de chufa, a popular sweet drink.
The name "tiger nuts" stems from the fact that the tubers are striped. They contain some protein, although not as much as true nuts, more starch, and mostly monounsaturated (oleic) fat. They're also high in iron, potassium, magnesium and vitamins C and E, and they are gluten free.
Followers of the Paleolithic diet have embraced tiger nuts because they are natural, organic and have an ancient pedigree. As far as weight loss is concerned, theoretically tiger nuts may tamp down appetite and keep you feeling full longer because they're high in resistant starch fiber, which resists digestion in the stomach and small intestine and may help reduce sudden surges in blood sugar. It also acts as a prebiotic – a substance that helps support healthy gut bacteria. One ounce of raw tiger nuts provideS 120 calories, 10 grams of fiber, 9 grams of naturally occurring sugar and 7 grams of fat.
Tiger nuts are rather chewy (less so if their outer skins are removed or if you soak them in water for about 12 hours). Their taste has been described as smoky, nutty, creamy and earthy but can vary from batch to batch. Some have an unpleasant aftertaste, some are bland and flavorless, and others are sweet and creamy.
You can buy tiger nuts online and in health food and specialty shops in packages. You can also find tiger nut granola and tiger nut flour. Be aware that some tiger nuts are destined for planting or sold for use by fishermen as bait for carp. Avoid them: they may be sprayed with fungicide or other chemicals and aren't intended for human consumption.
If you like tiger nuts, there's no reason not to enjoy them. But I wouldn't regard them as superfoods, a term that has been overused to describe foods newly rediscovered as "healthy", particularly those with an alleged exotic history.
Andrew Weil, M.D.
Sources:
Bernardo Pascual et al, "Chufa (Cyperus esculentus L. var. sativus boeck.): An unconventional crop. studies related to applications and cultivation." Economic Botany, October 2000
Mary M. Murphy et al, "Resistant Starch Intakes in the United States." Journal of the American Dietetic Association, January 2008.