Chilly? Warm Up With These Healthy Homemade Soups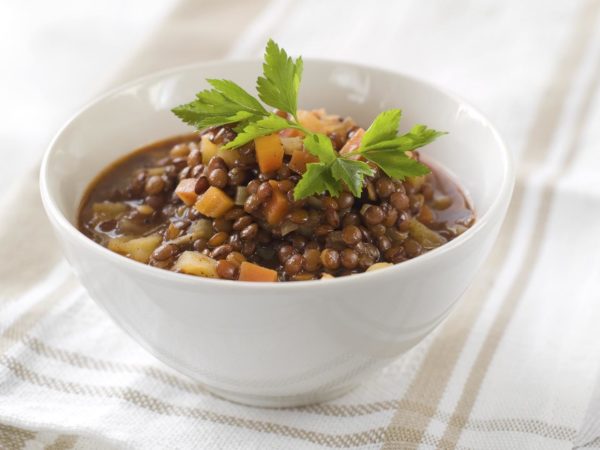 A one-pot wonder, soup is pleasing and filling. To get the most out of your soups this fall and winter, consider these three suggestions.
Add beans and legumes. They are an excellent source of vegetarian protein, high in folic acid, a great source of fiber and a low-glycemic-index food. Try our Lentil Soup recipe.
Add whole grains. Brown and wild rice are large, intact grains metabolized by the body more slowly than grains ground into flour. These "true whole grains" prevent blood sugar "spikes" that are followed by "lows", which may induce cravings and fatigue. The result instead is a steady, productive energy with less sugar cravings that propels you through the day. Our Brown Rice Soup with Asparagus is a good source of whole grains.
Add vegetables. Making soup is a perfect way to serve up plenty of servings of vegetables, as they add depth, texture and taste. Try the Roasted Vegetable Soup recipe.
Another major advantage to soup is that it is often better the next few days after the ingredients and flavors have had time to meld together. Making soup on Sunday often provides several lunches or another dinner during the week for those short of prep time. If you are forgoing homemade soup for canned soup, keep in mind that while canned soups can be good sources of protein, fiber, vitamins and beneficial nutrients such as lycopene, they are notoriously high in sodium. When choosing canned soups, look for low-sodium versions or simply add your own spices and seasonings to no-salt varieties.
Today's Health Topics
Editor's Pick
Health Focus
Ask Dr. Weil's Q&A
sponsor

Begin The Anti-Inflammatory Diet Today!
Dr. Weil's Anti-Inflammatory Diet & Healthy Aging Plan can help us all age with grace and delay the onset of age-related concerns such as heart disease, Alzheimer's, and many forms of cancer. By developing sound lifestyle practices, you can experience optimal health and well-being. Begin a 14-day free trial of Dr. Weil on Healthy Aging for access to shopping guides, eating tips, recipes, interactive tools, videos and more!