Adding Adaptogens?
Can I cook with certain foods to add adaptogens to my diet?
Andrew Weil, M.D. | October 31, 2022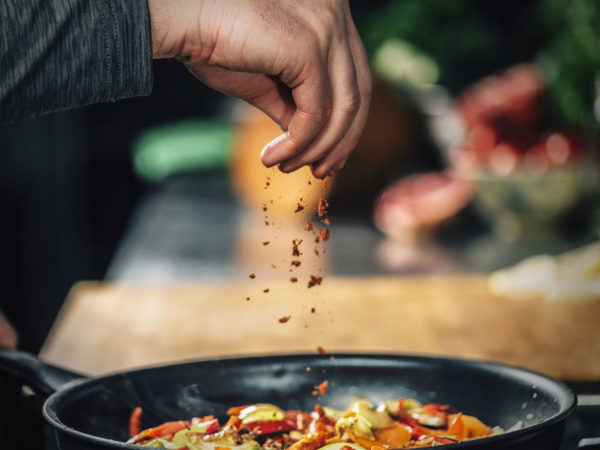 Adaptogens are herbs and natural products that help the body adapt to stress and increase resistance to it. Also referred to as tonics, there are dozens of adaptogens, including garlic and mushrooms, all of which can easily be added to your menu as flavorful ways to counter stress. One of my favorite adaptogens is green tea, which I drink daily. Other adaptogens, such as  ashwagandha and arctic root (Rhodiola rosea), have strong or bitter tastes and are more often taken as capsules.
The term "adaptogens" was coined in the middle of the twentieth century by Russian pharmacologist and toxicologist Nikolai Lazarev, who was known for his research into industrial toxins. (Ahead of his time, Lazarev also coined the term "geohygiene" to refer to practices that protect the planet from pollutants.) Adaptogens have a nonspecific action – they help regulate the body's stress response in whatever direction is needed to restore balance.
You've probably heard it said that a little stress is good – the surge of stress hormones you experience when you see an oncoming car provides the jolt you need to leap out of its path – but too much stress, or continuous stress, is harmful to the body. When stress hormones don't recede after a threat has passed, when we find ourselves in a state of chronic stress, we are at increased risk for hypertension, stroke, heart disease, depression, infection, and cancer. Adaptogens help calm the stress response and often have other health benefits as well. Here are my top three suggestions for adding them to your cooking:
Ginger is one of my favorite spices, and adding its distinctive flavor to salads, stir-fry, and cookies also provides a boost to your health. Ginger aids digestion, helps fight colds and flu, and has anti-inflammatory properties. You'll find some of my favorite recipes with ginger here.
Turmeric, a close relative of ginger, has powerful anti-inflammatory properties, relieving symptoms of arthritis, and is also an antioxidant, protecting the body against free radicals. It adds an earthy taste to rice and grain dishes. See my video about cooking with turmeric.
Garlic is a potent medicinal food, adding health benefits along with its pungent aroma and flavor. It has antibacterial, antifungal, and antiviral properties – so much so that it's been called the "poor man's penicillin." It may also help lower cholesterol and blood pressure, and reduce the risk of heart attack. Here's more info about garlic.
Click here for more information about adaptogens that are not as well suited for cooking, but can be taken as supplements.
By the way, synthetic adaptogens are also now available as supplements and food additives — some of them have been banned in athletes by the World Anti-Doping Agency, and I don't recommend them.
Andrew Weil, M.D.
Source
Todorova V, Ivanov K, Delattre C, Nalbantova V, Karcheva-Bahchevanska D, Ivanova S. Plant Adaptogens-History and Future Perspectives. Nutrients. 2021 Aug 20;13(8):2861. doi: 10.3390/nu13082861. PMID: 34445021; PMCID: PMC8398443. ncbi.nlm.nih.gov/pmc/articles/PMC8398443/