Move More & Live Longer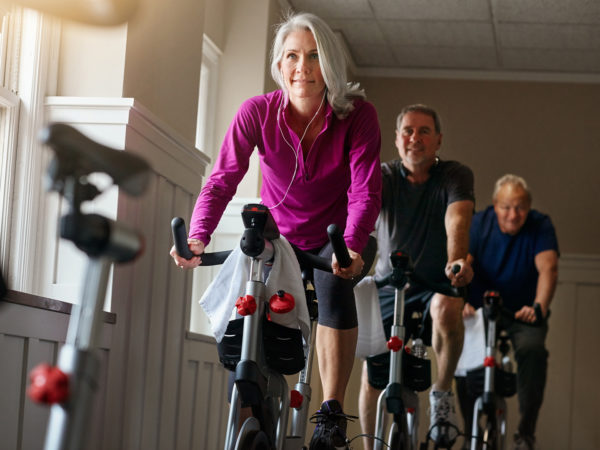 The study, the biggest ever of cardiorespiratory fitness in healthy people, included 316,137 adults aged 18-74. Between 1995 and 2015 their cardiorespiratory fitness was measured by a cycle test and recorded as their VO2 max, the maximum amount of oxygen the heart and lungs provide muscles during exercise. Over the years the participants' health was followed through Sweden's national health registries. Results showed that the risk of death from any cause dropped by 2.8 percent and of cardiovascular events by 3.2 percent with each milliliter increase in VO2 max. Benefits occurred among both men and women in all ages and at all fitness levels. "An increase in fitness was beneficial regardless of the starting point," said study leader Elin Ekblom-Bak of Sweden's School of Sport and Health Sciences. As a rough guide, she advised that for every additional milliliter of VO2 max the risk of death from any cause and the risk for cardiovascular events drop by an average of three percent, which she viewed as "more motivational than just telling people they need to do better." The findings were presented April 12 (2019) at a European cardiology conference.  
My take? These new findings should prompt consideration of how adding even a little extra physical activity to your day can affect your health and longevity. My view is that any amount of aerobic exercise – walking, running, biking – is better than none. I would be happy to see people performing even a few minutes of it regularly but encourage everyone to aim for 30 minutes daily 5 days a week. Keep in mind there are other ways to increase your daily activity – use stairs more often, park farther from your destinations to walk more and take on more physical work yourself instead of delegating it to others. 
Source:
Elin Ekblom-Bak et al, "Sex- and age-specific associations between cardiorespiratory fitness, CVD morbidity and all-cause mortality in 316,137 Swedish adults'" Presentation, April 12, 2019 at EuroPrevent, the international congress on preventive cardiology and the annual congress of the European Association of Preventive Cardiology (EAPC) of the European Society of Cardiology (ESC). 
Also in this week's bulletin: