A Daily Aspirin To Cut Cancer Risk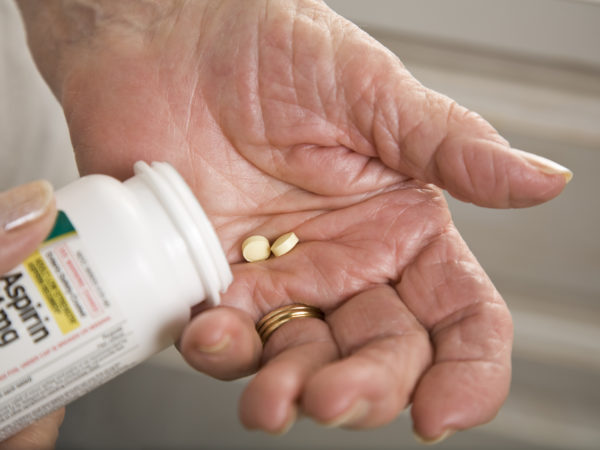 New research suggests that taking a low dose aspirin daily might help lower ovarian cancer risk by 10 percent. A second study found that daily aspirin could help improve survival by 30 percent for women who develop the disease. Aspirin may work by reducing chronic inflammation, which plays a role in this cancer, the researchers said. To determine whether taking a daily aspirin influences the risk investigators reviewed 13 studies, which provided data on 758,829 women worldwide including their use of aspirin and non-aspirin nonsteroidal anti-inflammatory drugs (NSAIDS). The team then followed the women to see how many developed ovarian cancer and found that those who took daily aspirin lowered their risk by 10 percent.
Senior study author Shelley S. Tworoger, Ph.D., of the Moffitt Cancer Center in Tampa, FL said further clinical trials are needed before recommending that women take a daily aspirin for this purpose, and to determine whether baby aspirin or regular aspirin would be more effective (many women now take aspirin daily to lower their risk of heart disease). The second study, performed by researchers at the University of Hawaii and Moffitt, collected data on nearly 1,000 women diagnosed with ovarian cancer and found as much as a 30 percent improvement in survival among those who took aspirin and NSAIDS following their diagnosis and treatment. Because both studies were observational in nature, they don't prove cause and effect.
Sources:
Penelope M. Webb, "Does aspirin have a role in management of ovarian cancer?" The Lancet Oncology, July 17, 22018 DOI:  doi.org/10.1016/S1470-2045(18)30420-0
Shelly S. Tworoger et al, ""Analgesic Use and Ovarian Cancer Risk: An Analysis in the Ovarian Cancer Cohort Consortium." Journal of the National Cancer Institute, May 31, 2018, doi.org/10.1093/jnci/djy100
Also in this week's bulletin: