Does Talc Cause Ovarian Cancer?
I've been using baby powder for years, and now I've read that a jury found it caused a case of fatal ovarian cancer. I've stopped using the product but wonder how big a risk I face.
Andrew Weil, M.D. | October 17, 2016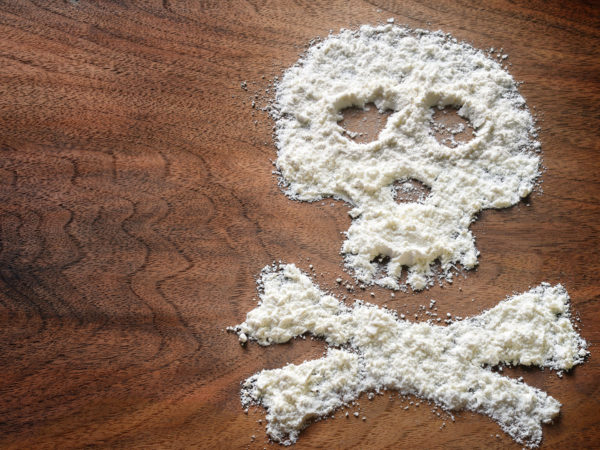 You're likely referring to the case of Jacqueline Fox, of Birmingham, AL, whose family won a $72 million jury award in a suit against Johnson & Johnson, the manufacturer of the baby powder she used for years. Ms. Fox died in 2015, two-and-a-half years after being diagnosed with ovarian cancer.
Of more than 1200 lawsuits against Johnson & Johnson filed by women who believe their use of baby powder led to ovarian cancer, this is the first to go to trial. The risk is linked to the talc in the powder and the chance that particles of it might travel from the genital area through the vagina, uterus and fallopian tubes to the ovaries. In Ms. Fox's case, a pathologist found that her ovaries were inflamed from talc and that the inflammation led to cancer.
An epidemiologist who testified at the Fox trial estimated that talc is responsible for 10 percent of cases of fatal ovarian cancer.
Talc is a naturally occurring mineral used in powders and other cosmetic products because it absorbs moisture. According to the American Cancer Society, some studies have shown a small increased risk of ovarian cancer linked to the use of baby powder and other products containing talc. Other research has shown no such danger. However, the International Agency for Research on Cancer, a part of the World Health Organization, classifies the use of talc-based powders on the genital region as "possibly carcinogenic to humans." Most baby powders now use cornstarch instead of talc as a safe drying agent.
In May 2016 (after the Fox trial concluded), researchers at the University of Virginia published a study showing that African American women who regularly used body powder were at higher risk of ovarian cancer than those who didn't use it. The study found that the risk increased by more than 40 percent among the women who used the powder on the genital area and by more than 30 percent by those who used it elsewhere on the body.
The research team interviewed 584 black women with ovarian cancer and 745 black women without the disease. They reported that nearly 63 percent of the women with ovarian cancer used the powder. Although the investigators also found that about half of the healthy women used the powder, they determined the difference between the two groups was significant and concluded that body powder use was associated with increased risk of ovarian cancer.
Study leader Joellen Schildkraut was quoted in news reports as saying she had been skeptical about the connection, but as a result of her study and another published in December 2015 reporting a 33 percent higher risk among women who use talc routinely, she now views TALC as an avoidable risk for ovarian cancer.
Internal memos from Johnson & Johnson introduced during the trial may also help explain why the jury ruled in favor of Ms. Fox. One communication, dating back to 1997, was written by a medical consultant who compared ignoring the link between "hygienic" talc use and ovarian cancer to denying the association between cigarette smoking and lung cancer. Another internal memo noted that sales of products containing talc had been declining as women became aware of the risk and included marketing strategies targeting African-Americans and Hispanics. Ms. Fox was African-American.
Andrew Weil, M.D.
Sources:
Joellen M. Schildkraut et al, "Association between Body Powder Use and Ovarian Cancer: the African American Cancer Epidemiology Study (AACES)." Cancer Epidemiology, Biomarkers & Prevention, May 12, 2016, doi: 10.1158/1055-9965.EPI-15-128
Kim Bell, "St. Louis jury orders Johnson & Johnson to pay $72 million in talcum powder cancer case." St. Louis Post-Dispatch, February 23, 2016, http://www.stltoday.com/news/local/crime-and-courts/jury-orders-johnson-johnson-to-pay-million-in-talcum-powder/article_26e6046c-f97d-5a6d-a879-a97535dd78bc.html