Herbs
Witch Hazel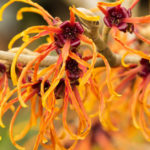 (Hamamelis virginiana)
Used for:
Insect stings; sun and wind burn; poison ivy blisters; disinfectant of minor cuts and abrasions; skin care, cleansing, toning and refreshing; muscle soreness; hemorrhoids and anal irritation
Related Weil Products
advertisement
Are You Getting The Herbs and Supplements You Need?

Everyone's dietary needs are different based on a number of factors including lifestyle, diet, medications and more. To find out which herbs and supplements are right for right for you, take the
Weil Vitamin Advisor
.
Available in:
Liquid distillation of leaves, twigs, bark
Herb / drug interactions
None known
Other safety concerns:
None known
When buying:
Available at any drug store
Dosage:
Adults: Apply topically as needed
Child dosage:
Same as adults