Worried About Salmonella?
Published: 12/01/2013
Learn More:
Blood Urea Nitrogen (BUN) Test: Are Your Kidneys OK?
Related:
Liver & Kidney Concerns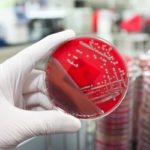 Every Monday in December, the Daily Tips will focus on warning signs of some common health concerns. We encourage you to share this information with loved ones, as early response can help facilitate treatment.
Each year an estimated 40,000 cases of salmonella, a food-borne illness caused by salmonella bacteria, are reported in the United States. The number of actual cases is likely to be much higher, as milder cases may go undiagnosed and unreported. Young children, the elderly and those with compromised immune systems are at the greatest risk for severe infection, but anyone can contract salmonella.
Common symptoms include diarrhea, fever and abdominal cramps that begin 12 to 72 hours after infection and can continue for four to seven days. While most people recover without treatment, some may experience severe diarrhea that requires hospitalization to prevent dehydration and the spread of the infection from the intestines to the bloodstream. Once the bacteria are in the blood, other sites in the body can become infected, which can be fatal without treatment.
When it comes to preventing salmonella, the Centers for Disease Control (CDC) suggests the following:
Contaminated foods usually look and smell normal, so it is important to thoroughly wash all produce and cook all foods of animal origin. Avoid eating beef, poultry or eggs that are not cooked well, and do not consume raw or unpasteurized milk or other dairy products.
Avoid industrialized food sources as much as possible. Free-range animals from open, uncrowded pastures are best.
Avoid cross-contamination of foods – keep uncooked meats separate from produce, cooked foods, and ready-to-eat foods. Thoroughly wash your hands, cutting boards, counters, knives and other utensils after touching uncooked foods.
Keep your hands clean – wash them before handling food, between handling different food items, and always after using the bathroom.
Keep up-to-date on outbreaks – the website for the CDC lists outbreaks and the geographical areas that are affected.
Anyone who has contracted salmonella should not prepare food or pour water for other people until their symptoms have been resolved.
In addition to contracting salmonella from contaminated food, the bacteria can be present in some species of companion animals, especially reptiles such as turtles, lizards and snakes, and in chicks and young birds. Make it a point to wash your hands thoroughly after contact with any of these animals.
If you think you or a family member may have contracted salmonella, contact your physician or local hospital – if you do have salmonella, it is important for the public health department to know about the case so it can identify the source.
Find out which vitamins are right for you.
Everyone's dietary needs are different based on a number of factors including lifestyle, diet, medications and more. To find out
what vitamins you need
, take the
Weil Vitamin Advisor
. This 3-step questionnaire requires just minutes to complete, and generates a free, no-obligation vitamin and nutritional supplement recommendation that is personalized to meet your unique nutritional needs.
Don't Let Meal Planning Stress You Out!
Whether you are cooking for one, two or ten, preparing healthy holiday meals can be a challenge. Dr. Weil on Healthy Aging makes meal planning simple and enjoyable, with hundreds of healthful recipes. From appetizers to desserts and everything in between, see what our online cookbook has in store for you. Start your two-week free trial today, and save 30% when you join!