Worried About Lice?
Published: 09/19/2013
Learn More:
Do You Need a Pillow for Sound Sleep?
Related:
Sleep Issues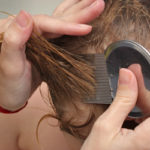 Head lice are a common nuisance of childhood. Kids can quickly pick them up by sharing hats, scarves, hair ribbons and other clothes; sharing combs, brushes or towels; or lying on a bed, couch, pillow or even cuddling a stuffed animal that belongs to a child who has lice.
To help prevent lice: Discourage this kind of sharing, particularly if you know there's a local infestation.
To treat head lice: Try a natural solution of one-percent permethrin cream rinse, sold as Nix and Neem, which is derived from a tree in India. While lice can develop resistance to permethrin products and they can aggravate asthma in some children, both are relatively safe. Lice B Gone, a non-toxic, multi-enzyme shampoo made from plant sources that seems to get rid of lice in a single application, is another option. It works by softening the glue that holds the nits (lice eggs) to the hair shaft and also dissolves the exoskeletons of adult lice. Since it contains no pesticides, Lice B Gone is considered safe for pregnant women, nursing mothers, young children and people with asthma.
Find out which vitamins are right for you.
Everyone's dietary needs are different based on a number of factors including lifestyle, diet, medications and more. To find out
what vitamins you need
, take the
Weil Vitamin Advisor
. This 3-step questionnaire requires just minutes to complete, and generates a free, no-obligation vitamin and nutritional supplement recommendation that is personalized to meet your unique nutritional needs.
Natural Healing Orthotic Shoes
Relieve pain and help prevent aches with fresh new Fall styles from Orthaheel. Podiatrist-designed technology is built right into the footbed of each shoe, taking you where you want to go – naturally aligned and in comfort. To learn more, visit www.orthaheelusa.com.