Want to Enhance Your Yoga Practice?
Published: 10/19/2013
Learn More:
Heart Attack
Related:
Condition Care Guide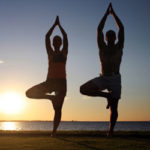 Even the ancient arts – including yoga – are not immune from evolution. While original yogis did not use props such as sticky mats (foam mats with non-skid backing), foam blocks (firm, pillow-like aids to cushion joints and assist in maintaining balance) or D rings (straps with D-shaped metal adjustment rings, used to help achieve or hold difficult poses), some modern practitioners find that props help them to ease into new moves, master more difficult poses or deepen their experience.
From balls to blankets, sandbags to eye bags, the list of props – and what they can do for you – is extensive. Learn more about different yoga props, and how they may benefit your practice.
If you're a stickler for tradition, you can still benefit from age-old methods of stabilizing your body such as a wall or the assistance of another person to enrich your yoga experience.
Find out which vitamins are right for you.
Everyone's dietary needs are different based on a number of factors including lifestyle, diet, medications and more. To find out
what vitamins you need
, take the
Weil Vitamin Advisor
. This 3-step questionnaire requires just minutes to complete, and generates a free, no-obligation vitamin and nutritional supplement recommendation that is personalized to meet your unique nutritional needs.
8 Weeks to a More Balanced Life!
If procrastination, too many commitments, or just having difficulty saying "no" is part of your life, we can help. Spontaneous Happiness is an 8-week online plan with everything you need to create some balance in your life. Exclusive tools, videos and guides can help you contain the chaos and achieve balance. Start your 10-day free trial now and save 25% when you join!