Should You Be Taking Milk Thistle?
Published: 10/23/2013
Learn More:
Finding Good Vitamins
Related:
Vitamin Library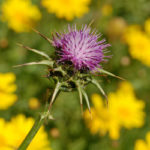 Protection from environmental toxins begins with minimizing your exposure – avoiding smoking and secondhand smoke, eating organic, pesticide-free foods, and reducing your contact with toxic chemicals are good ways to start. The herb milk thistle may also have beneficial, detoxifying effects: it has an excellent reputation for supporting the health of the liver, the main organ responsible for processing toxins. Anyone who uses alcohol regularly, who takes drugs or medications that can harm the liver, or who works with solvents or has a history of toxic exposures should consider taking milk thistle. Look for extracts standardized to 70-80 percent silymarin, and take two capsules twice a day or as the label directs. Milk thistle is nontoxic and can be used for extended periods.
The Weil Vitamin Advisor offers more information on what supplements are right for you – visit today for your free recommendation.
Find out which vitamins are right for you.
Everyone's dietary needs are different based on a number of factors including lifestyle, diet, medications and more. To find out
what vitamins you need
, take the
Weil Vitamin Advisor
. This 3-step questionnaire requires just minutes to complete, and generates a free, no-obligation vitamin and nutritional supplement recommendation that is personalized to meet your unique nutritional needs.
Are You Resilient?
Resilience – the ability to respond with grace and courage to whatever comes your way, knowing you will easily return to an emotional balance point – can be yours. Let Spontaneous Happiness help you achieve the contentment that comes naturally with resilience. Our 8-week online plan provides the exclusive videos, tools and guides to help you become more resilient. Learn more – start your 10-day free trial now and save 25% when you join!