Ovarian Cancer: 8 Signs All Women Should Know
Published: 09/11/2013
Learn More:
Beta-Carotene
Related:
Vitamin Library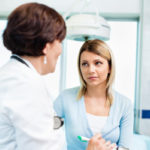 Ovarian cancer is almost completely curable if caught in its earliest stages. Unfortunately, it has few early symptoms and there is no reliable screening test, making early diagnosis difficult. To help identify problems when they first start, women should talk with their physician if the following symptoms are persistent, even if they seem trivial:
General abdominal discomfort or pain (gas, indigestion, pressure, swelling, bloating, cramps)
Nausea, diarrhea, constipation or frequent urination
Loss of appetite
Feeling of fullness or abdominal swelling after a light meal
Weight gain or loss with no known reason
Abnormal bleeding from the vagina
Pelvic pressure (a feeling that one needs to urinate or defecate all the time)
Constant back or leg pain
A pelvic exam and an ultrasound can determine whether the ovaries require further evaluation. In addition to knowing the symptoms, two simple precautions can drastically increase the chance of early detection:
Give a thorough medical history to your gynecologist. Disclose any personal and family history of breast, endometrial, or colon cancer, as well as any use of fertility drugs (these may put you at higher risk).
Have an annual pelvic exam and routine sonograms.
Find out which vitamins are right for you.
Everyone's dietary needs are different based on a number of factors including lifestyle, diet, medications and more. To find out
what vitamins you need
, take the
Weil Vitamin Advisor
. This 3-step questionnaire requires just minutes to complete, and generates a free, no-obligation vitamin and nutritional supplement recommendation that is personalized to meet your unique nutritional needs.
Want More Women-Specific Health Advice?
Start your 14-day free trial of Dr. Weil on Healthy Aging. This online guide to preventive health has exclusive tools and information to help get you and your health on the path to wellness. It includes information on women's health, nutrition, lifestyle and more. Small changes for a healthy rest of your life – start your free trial today and save 30% when you join.