Nervous About Public Speaking?
Published: 07/28/2013
Learn More:
Elevated Homocysteine
Related:
Condition Care Guide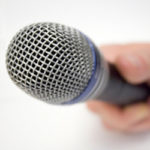 Ever feel anxious when speaking in front of an audience? Some jitters in such situations are normal, but if your life is severely restricted by fears of being criticized, embarrassed, or humiliated in public situations, you may have social phobia or social anxiety. This excessive fear may be caused by chemical imbalances in the brain, or by factors such as low self-esteem, past rejection by peers, poor social skills or a history of public embarrassment. Panic attacks are a common reaction among those with social anxiety, and can cause heart palpitations, trembling, blushing, nausea, lightheadedness, stomach discomfort, shortness of breath and heavy sweating.
The good news is that there are natural ways to address social anxiety, and these simple tips are also effective against other forms of anxiety. Try the following:
Avoid coffee and other sources of caffeine; stimulants can heighten anxiety.
Practice breathing exercises, an effective relaxation technique.
Consider passionflower, a natural, mild sedative that's safer than pharmaceuticals. The recommended dosage is one dropperful of a tincture in a little warm water, or two capsules of the extract, up to four times a day as needed.
Begin supplementing with B vitamins and magnesium, which are sometimes helpful in dealing with the symptoms of anxiety.
Think about seeking professional therapy. Exposure therapy can slowly introduce you to the specific situations you fear, and hypnotherapy can give you a sense of what it feels like to be relaxed and open in those settings.
Get more information on boosting your self-confidence and overall outlook on life – start your 10-day free trial of SpontaneousHappiness.com!
Find out which vitamins are right for you.
Everyone's dietary needs are different based on a number of factors including lifestyle, diet, medications and more. To find out
what vitamins you need
, take the
Weil Vitamin Advisor
. This 3-step questionnaire requires just minutes to complete, and generates a free, no-obligation vitamin and nutritional supplement recommendation that is personalized to meet your unique nutritional needs.
Expanding Your Mind Throughout Your Life
Learning a foreign language, visiting a new restaurant, reading a classic novel… Making time for your mind is an important part of healthy aging. The Dr. Weil on Healthy Aging online guide covers ways to exercise your mind and techniques for improving your memory. Start your 14-day free trial now!