Is Your Depression Undiagnosed?
Published: 09/08/2013
Learn More:
Antioxidants
Related:
Vitamin Library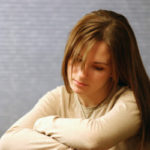 Depression is now considered common, affecting about 340 million people worldwide. Although treatable, about half of all cases of depression go undiagnosed and unaddressed. Situational sadness is a typical and normal reaction to events, such as a recent loss, and is simply part of the human experience. Rather than suppress situational sadness, it is best to work through these periods with help from psychotherapists or counselors. A more serious medical diagnosis is clinical depression – it can also be triggered by a recent loss or other sad event, but then grows out of proportion to the situation and persists longer than is appropriate, affecting emotional health. Clinical depression often requires other forms of treatment in addition to counseling and therapy.
If you are regularly or chronically experiencing any of the following, which are common symptoms of depression, make an appointment to talk with a therapist:
A sullen mood
Feelings of hopelessness, guilt and anxiety
Loss of interest in things that used to be pleasurable
Change in appetite
Change in sleeping patterns
Inability to concentrate
A lack of energy or feeling run-down
Don't miss tomorrow's Daily Tip, when we discuss natural treatment methods to address depression. And for more information on treating mild to moderate depression, start your 10-day free trial of Spontaneous Happiness, Dr. Weil's 8-week online plan.
Find out which vitamins are right for you.
Everyone's dietary needs are different based on a number of factors including lifestyle, diet, medications and more. To find out
what vitamins you need
, take the
Weil Vitamin Advisor
. This 3-step questionnaire requires just minutes to complete, and generates a free, no-obligation vitamin and nutritional supplement recommendation that is personalized to meet your unique nutritional needs.
Are You at Emotional Sea Level?
And what is emotional sea level anyway? Find out – join Dr. Weil's website, SpontaneousHappiness.com. Based on his best-selling book, this eight-week plan addresses the increase in depression, and gentle, natural therapies that can help treat the condition. Start your 10-day free trial now!