Is "Hot Yoga" Healthy?
Published: 01/22/2014
Learn More:
Antioxidants
Related:
Vitamin Library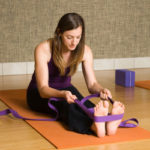 Bikram yoga was created in 1971 by Bikram Choudhury, an Indian entrepreneur based in Los Angeles. It is called "hot" for good reason: classes are held in rooms with the temperature set at 105 degrees Fahrenheit and the humidity controlled at 60 percent. It consists of 26 yoga poses (asanas) designed to warm and stretch muscles, ligaments, and tendons in a specific order. Choudhury claims that the 26 poses work every part of the body, and provide internal organs and muscles with what they need to maintain optimum health. He maintains that the high heat is necessary for protection of muscles and allows for deeper stretching, detoxification of the body and other benefits.
While it's true that warmer muscles are more flexible and better able to stretch, I have concerns about exercising in high heat since it can be particularly stressful on the body – even for those who are very fit. It is also easier to overstretch muscles in a hot environment without being aware of it at the time, possibly resulting in muscle strains or even damage to joints.
If you decide to try Bikram yoga, be sure to drink plenty of water throughout the routine and pay close attention to how you feel. Take a break if you find the poses too strenuous and stop immediately if you feel dizzy, lightheaded, overheated or experience chest pain. In general, I suggest avoiding Bikram yoga if you're sensitive to heat and have experienced heat stroke or dehydration in the past. If you have arthritis or any type of joint problem or high (or low) blood pressure, be sure to check with your doctor before taking a Bikram yoga class. If you have heart disease or are pregnant, I advise you to choose other types of yoga.
Spontaneous Happiness has a variety of yoga poses designed to complement healthy lifestyle goals – start your free trial today to learn more!
Find out which vitamins are right for you.
Everyone's dietary needs are different based on a number of factors including lifestyle, diet, medications and more. To find out
what vitamins you need
, take the
Weil Vitamin Advisor
. This 3-step questionnaire requires just minutes to complete, and generates a free, no-obligation vitamin and nutritional supplement recommendation that is personalized to meet your unique nutritional needs.
Naturally Supportive, Stylish Shoes – For Less!
Save on comfort and support this season with the Orthaheel Winter Shoe Sale. Podiatrist-designed technology is built right into the footbed of each shoe and slipper, so you can experience support and all-day walkability. Slip into a pair today. Supplies are limited and styles are going fast! To learn more, visit www.orthaheelusa.com.