Healthy Joints Part 1: Nutrition Tips
Published: 06/10/2013
Learn More:
Walking Off a Burger?
Related:
Exercise & Fitness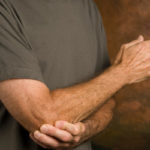 As we age, we experience the effects of normal wear and tear on our joints. Small preventive measures – including prudent supplementation, maintaining a healthy weight and avoiding intense activities that stress the joints – can help keep joints healthy and relatively pain-free for a lifetime. In addition, certain foods may be protective. Consider these nutrition tips:
Eat an anti-inflammatory diet. Focus on foods rich in omega-3 fatty acids, such as cold water, oily fish like salmon and sardines; walnuts; and freshly ground flaxseeds. Spices like ginger and turmeric can also help reduce inflammation. My Anti-Inflammatory Food Pyramid has more information and specific recommendations.
Eat foods rich in antioxidants. Found in fresh vegetables and fruit, antioxidants may help reduce tissue damage from inflammation.
Don't miss tomorrow's Daily Tip, when we cover lifestyle suggestions for joint health.
Find out which vitamins are right for you.
Everyone's dietary needs are different based on a number of factors including lifestyle, diet, medications and more. To find out
what vitamins you need
, take the
Weil Vitamin Advisor
. This 3-step questionnaire requires just minutes to complete, and generates a free, no-obligation vitamin and nutritional supplement recommendation that is personalized to meet your unique nutritional needs.
Natural Healing Orthotic Sandals
Dr. Weil recommends footwear and orthotic insoles incorporating Orthaheel technology, a science-based platform that can help relieve common foot, ankle and knee pain. Orthaheel's podiatrist-designed sandals provide natural support and comfort without compromising style. Visit Orthaheelusa.com today to see our summer sandal collection for women and men.