Do Your Heels Hurt?
Published: 04/09/2014
Learn More:
Facts on Vitamin C
Related:
Vitamin Library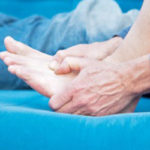 Heel spurs are small growths on the underside of the heel that can come from strain on foot muscles and ligaments. Plantar fasciitis is inflammation of the band of tissue that stretches along the bottom of the foot. Either or both can cause heel pain.

If you are experiencing pain in your feet, look at the type of shoes you are wearing. Shoes that don't give you proper support, are ill-fitting, or are simply worn out can all cause foot pain. Replacing your shoes with new, properly fitted ones is important. You may also find relief with using a roller with plastic projections to help break up scar tissue on the underside of your foot.
If you feel exercising is the culprit, take a break from your normal routine and see if that helps. If the pain persists, ice the aching area or try over-the-counter or natural anti-inflammatories. Aspirin and ibuprofen can help, as can ginger or turmeric extracts. Stretching may also help – ask your podiatrist or physician for specific instructions.
Find out which vitamins are right for you.
Everyone's dietary needs are different based on a number of factors including lifestyle, diet, medications and more. To find out
what vitamins you need
, take the
Weil Vitamin Advisor
. This 3-step questionnaire requires just minutes to complete, and generates a free, no-obligation vitamin and nutritional supplement recommendation that is personalized to meet your unique nutritional needs.
Walk to optimum health with Orthaheel Technology!
New name, new style, same trusted technology! Inside every pair of Vionic shoes, sandals and slippers is tried and true Orthaheel® Technology, offering natural relief that's never looked so good! Take a walk in our new Zen active shoes. They're so comfortable and supportive, you might just walk your way to a new, healthier lifestyle. Learn more about the Zen Walker shoes.