7 Surprising Ways to Minimize Allergies
Published: 06/18/2013
Learn More:
TechnoStress: Stressed by High Tech Life?
Related:
Technology & Health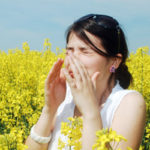 If sneezing and itchy eyes are affecting your day-to-day routine, you may have seasonal allergies. The following natural approaches may have beneficial effects on your symptoms – give them a try:
Take freeze-dried stinging nettles and butterbur. Both herbs perform as well as antihistamines, without the drowsiness.
Eliminate dairy and any products that contain casein (to avoid immune-system irritation).
Increase your intake of omega-3 fatty acids – they help combat inflammation caused by allergic reactions. Wild Alaskan salmon, freshly ground flaxseeds, and high-quality fish oil supplements are good choices.
Eat foods rich in quercetin. This bioflavonoid can help prevent the release of histamine. Citrus fruits, garlic, parsley, apples, broccoli and tea all contain quercetin.
Eat plenty of antioxidant-rich fruits, such as berries and cherries, to help modify the body's inflammatory response.
Try nasal douching with a warm saline solution by using a Neti pot.
Drink plenty of water to keep nasal passages hydrated and to help flush out your system.
Find out which vitamins are right for you.
Everyone's dietary needs are different based on a number of factors including lifestyle, diet, medications and more. To find out
what vitamins you need
, take the
Weil Vitamin Advisor
. This 3-step questionnaire requires just minutes to complete, and generates a free, no-obligation vitamin and nutritional supplement recommendation that is personalized to meet your unique nutritional needs.
Revolutionary Footwear
Integrative practitioners worldwide recommend walking as the ideal exercise to promote optimum health and longevity, and now there's no excuse to keep you off your feet. Introducing Dr. Andrew Weil Integrative Footwear, a groundbreaking design that will take you where you want to go, balanced, energized and in comfort. Featuring AMS Aided Motion System™ technology in stylish shoes for women and men. To learn more, visit www.weilbeing.com.