6 Healthy Snack Ideas
Published: 10/21/2013
Learn More:
Do Infants Need Formula Plus Breast Milk?
Related:
Babies & Toddlers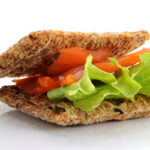 Healthy snacking doesn't mean depriving your taste buds. These palate-pleasing snack ideas are healthful and delicious:
Seasonal fruit with organic whole milk, plain yogurt and freshly ground flaxseed.
Whole-grain crackers with cheese or some smoked salmon.
A small handful of raw or lightly toasted nuts.
Toasted whole-wheat pita and hummus.
A hardboiled egg (look for omega-3-enriched eggs for added nutritional value) sprinkled with smoked paprika.
Fresh vegetables with high-quality yogurt – add fresh herbs and seasonings for more flavor.
Find out which vitamins are right for you.
Everyone's dietary needs are different based on a number of factors including lifestyle, diet, medications and more. To find out
what vitamins you need
, take the
Weil Vitamin Advisor
. This 3-step questionnaire requires just minutes to complete, and generates a free, no-obligation vitamin and nutritional supplement recommendation that is personalized to meet your unique nutritional needs.
Eating Healthy Getting Confusing?
Start snacking smart, with the information and guidance on Dr. Weil on Healthy Aging. We are your online guide to the anti-inflammatory diet, with how-to videos, over 300 recipes, weekly nutrition tips and more. See how simple healthy eating (and snacking!) can be – start your free trial today and save 30% when you join.