4 Simple Ways to Treat Corns
Published: 07/06/2013
Learn More:
Diabetes, Type 1
Related:
Condition Care Guide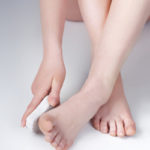 A "corn" is the layman's term for a thickening and hardening of the skin's surface layer with a deep-seated core or nucleation. These callous growths can cause pain or discomfort when standing, walking or running, and are often the result of wearing shoes that do not fit properly. A corn generally appears wherever there is continuous pressure or friction on the foot. If you have corns, make sure your shoes fit properly and avoid wearing socks or stockings that bind your feet too tightly. To deal with the irritation that corns can cause, try the following:
Use a pumice stone to reduce the thickness of a corn. Soak your feet prior to using it so that the corn is soft when you rub it.
Use moleskin or other non-medicated pads to reduce the pressure and pain.
Discard ill-fitting footwear and find products that offer both good support and a proper fit.
Consider using an over-the-counter corn-removal solution. Apply with caution, as they often contain acids. Never use these solutions if you're diabetic or have any problem with circulation in the feet.
If the remedies above don't help, see a podiatrist or other health-care professional who treats foot problems.
Find out which vitamins are right for you.
Everyone's dietary needs are different based on a number of factors including lifestyle, diet, medications and more. To find out
what vitamins you need
, take the
Weil Vitamin Advisor
. This 3-step questionnaire requires just minutes to complete, and generates a free, no-obligation vitamin and nutritional supplement recommendation that is personalized to meet your unique nutritional needs.
A New Outlook in Just Eight Weeks!
The transition from feeling "blah" to "rah" isn't immediate – but a few tweaks here and there can make a profound, sustainable difference. If you want to improve your outlook on life, join SpontaneousHappiness.com. We have everything you need to help improve your physical, mental and spiritual health, including exclusive tools and a very supportive community of like-minded members. See if it's right for you – start your 10-day free trial!