4 Reasons to Eat Winter Squash
Published: 11/16/2013
Learn More:
Hernia, Inguinal
Related:
Condition Care Guide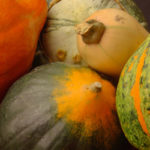 A delicious and versatile meal option for the colder months, winter squash comes in many varieties, all with a hard shell and mild-tasting flesh. Some common varieties of winter squash include butternut, acorn, Hubbard and pumpkin. No matter what variety you choose, you will be getting plenty of healthful nutrients, as winter squash:
Is an excellent source of vitamins A and C
Provides good amounts of potassium, dietary fiber and folate
Has antioxidant and anti-inflammatory benefits
Has been associated with lowered risk of a variety of diseases, including benign prostatic hyperplasia, lung cancer, atherosclerosis, diabetes-related health issues, and inflammatory disorders such as rheumatoid arthritis, asthma, and osteoarthritis
While they can be stored for up to six months, winter squash will eventually decay – choose ones with a heavy and firm feel and dull rinds that are uniformly hard. Talk with your local grocer or search online for different ways to cook squash and what each variety offers, as each type has its own unique taste and texture.
Try winter squash in the Roasted Winter Squash & Apple Soup recipe!
Find out which vitamins are right for you.
Everyone's dietary needs are different based on a number of factors including lifestyle, diet, medications and more. To find out
what vitamins you need
, take the
Weil Vitamin Advisor
. This 3-step questionnaire requires just minutes to complete, and generates a free, no-obligation vitamin and nutritional supplement recommendation that is personalized to meet your unique nutritional needs.
Want to get "Healthy in a Hurry"?
Sign up for the "EatingWell This Week" Free E-Newsletter – full of in-season recipes, healthy-in-a-hurry suppers, EatingWell Test Kitchen cooking techniques and tips, product and tool ratings. And get a free gift – a digital mini-cookbook. Click here for free e-newsletter!