4 Reasons To Eat Cabbage
Published: 01/12/2014
Learn More:
Zinc
Related:
Vitamin Library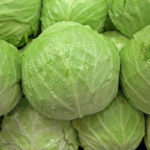 Cabbage is a low-cost, delicious way to boost your health. Part of the cruciferous family (which includes Brussels sprouts, broccoli and cauliflower), cabbage has many health benefits – it is:
Rich in antioxidants and phytonutrients, which are linked to heart health
A good source of fiber, which promotes gastrointestinal health
Abundant in vitamin C, which supports a healthy immune system
Renowned for its cancer-fighting properties, largely because it is rich in a class of nutrients called indoles. Indoles may reduce the risk of prostate, breast and other cancers
When choosing between red or white (actually, light green) cabbage, go for the red – it contains more protective phytonutrients. Whichever color you choose, you can easily add cabbage to salads, slaws and soups, use leaves of cabbage on sandwiches or – especially tasty – shred cabbage onto traditional Mexican foods like tostadas and tacos. And when you cook cabbage, do so briefly, for no more than five minutes. Overcooking this delicate vegetable into mush is a major cause of cabbage-phobia.
Dr. Weil on Healthy Aging has hundreds of vegetable-based recipes, including ones featuring cabbage. Start your free trial today and save 30% when you join.
Find out which vitamins are right for you.
Everyone's dietary needs are different based on a number of factors including lifestyle, diet, medications and more. To find out
what vitamins you need
, take the
Weil Vitamin Advisor
. This 3-step questionnaire requires just minutes to complete, and generates a free, no-obligation vitamin and nutritional supplement recommendation that is personalized to meet your unique nutritional needs.
Want to Start the New Year on a Healthy Note?
Good health begins in the kitchen. Fresh fruit and vegetable juices are easy with the Dr. Weil Healthy Kitchen Juice Extractor. This powerful yet quiet machine automatically separates juice and pulp into individual containers and is simple to use and clean. Learn more…