4 Reasons To Eat Brussels Sprouts
Published: 02/11/2014
Learn More:
Lion's Mane Mushroom for Nerve Damage?
Related:
Disease & Disorders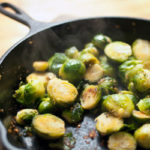 While they may not have been your favorite as a child – especially if cooked to a mushy consistency – Brussels sprouts are worth another try. A natural source of dietary fiber, folic acid, vitamin C, vitamin K, beta-carotene and several key antioxidants, Brussels sprouts:
Support optimal functioning of the heart and immune system
Reduce the risk of colon cancer and other cancers
Promote healthy elimination
Protect against birth defects
For the best taste (and most nutritional value) eat Brussels sprouts that are as fresh as possible. A simple preparation that can minimize the mush: slice them in half, brush or toss with some extra virgin olive oil and roast at 400 degrees for about 35 minutes, until just browned. Shake the pan once or twice during cooking for even browning.
Or get a little fancier with our Hashed Brussels Sprouts recipe! For more healthy food suggestions, start your 14-day free trial of Dr. Weil on Healthy Aging.
Find out which vitamins are right for you.
Everyone's dietary needs are different based on a number of factors including lifestyle, diet, medications and more. To find out
what vitamins you need
, take the
Weil Vitamin Advisor
. This 3-step questionnaire requires just minutes to complete, and generates a free, no-obligation vitamin and nutritional supplement recommendation that is personalized to meet your unique nutritional needs.
Lower Your Blood Pressure Naturally
RESPeRATE™ is the first medical device clinically proven to lower blood pressure with no side effects. This revolutionary device harnesses the power of breathing to lower blood pressure naturally. Featured in Mayo Clinic's "On High Blood Pressure," Doctor recommended.