4 Reasons to Eat Anti-Inflammatory
Published: 11/29/2013
Learn More:
High Blood Pressure, Hypertension
Related:
Condition Care Guide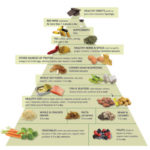 Dr. Weil's anti-inflammatory diet is a fairly simple way of eating that can satisfy different tastes and conforms to many cooking styles. The reasons to follow it are clear – it can help counteract chronic inflammation, which is a root cause of many serious diseases including:
An anti-inflammatory diet also promotes a healthy body – it provides steady energy, offers ample vitamins, minerals, essential fatty acids and dietary fiber, and can promote weight loss and maintenance of a healthy, stable weight. Learn more about the anti-inflammatory diet and get access to an exclusive food pyramid that includes links to related recipes when you join Dr. Weil on Healthy Aging.
Find out which vitamins are right for you.
Everyone's dietary needs are different based on a number of factors including lifestyle, diet, medications and more. To find out
what vitamins you need
, take the
Weil Vitamin Advisor
. This 3-step questionnaire requires just minutes to complete, and generates a free, no-obligation vitamin and nutritional supplement recommendation that is personalized to meet your unique nutritional needs.
Your Online Anti-Inflammatory Diet Guide
Dr. Weil's recommended anti-inflammatory diet is here! Only on Dr. Weil on Healthy Aging will you find exclusive videos and shopping guides, interactive tools, over 300 recipes, seasonal food lists and more. Start eating and enjoying the anti-inflammatory diet today – begin your 14-day free trial now and save 30% when you join!