3 Reasons You Need Vitamin E
Published: 05/14/2013
Learn More:
Health Risks of an Ex-Smoker?
Related:
Addiction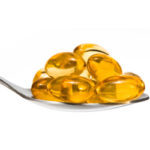 Vitamin E is a powerful, fat-soluble antioxidant that is vital to optimum health. It is found in nature as a complex of eight separate compounds (four tocopherols and four tocotrienols), each with important functions in the body. I recommend avoiding synthetic versions of vitamin E (for example, dl-alpha tocopherol), and using products that contain the full complex.
In the body, vitamin E:
Helps support cell membranes and protect against damage by free radicals.
Is necessary for structural and functional maintenance of skeletal, cardiac, and smooth muscle cells.
Assists in the formation of new red blood cells and helps to maintain stores of vitamins A and K, iron, and selenium.
People taking blood thinners or aspirin should consult with their doctor about vitamin E to avoid potential drug interactions. If you do supplement with vitamin E, take it with a meal that contains some fat to aid in its absorption. You can obtain natural vitamin E in foods such as nuts, spinach, sunflower seeds, wheat germ, and whole grains.
Find out which vitamins are right for you.
Everyone's dietary needs are different based on a number of factors including lifestyle, diet, medications and more. To find out
what vitamins you need
, take the
Weil Vitamin Advisor
. This 3-step questionnaire requires just minutes to complete, and generates a free, no-obligation vitamin and nutritional supplement recommendation that is personalized to meet your unique nutritional needs.
Healthy Cells for More Energy
As we grow older, a variety of factors can damage the ability of our cells to generate energy, which in turn can lower overall health and vitality. To keep your cells' metabolism vigorous, consider Weil Juvenon Healthy Aging Support. This science-based formula helps improve cellular health, making the cycles of energy production more efficient. Learn more!