3 Reasons To Eat Grapefruit
Published: 02/25/2014
Learn More:
What to Do About Whiplash?
Related:
General Health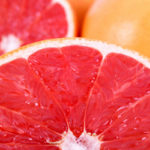 Pink or white, with seeds or seedless, grapefruit is delicious, tart and refreshing. Eating it regularly is a great way to get your vitamin C in just a few calories: an average-size grapefruit has about 70 calories total. Plus this citrus fruit offers other benefits. Research suggests it may:
Protect against cancers of the prostate, lung and colon
Support immune function
Lower LDL ("bad") cholesterol
When choosing, look for a thick skin and heavy weight – both help to insure a juicier fruit. Enjoy grapefruit sectioned and tossed in a salad, on its own (with or without a sprinkle of sugar) or as freshly squeezed juice.
For more seasonal food insight, start your free trial of Dr. Weil on Healthy Aging.
Find out which vitamins are right for you.
Everyone's dietary needs are different based on a number of factors including lifestyle, diet, medications and more. To find out
what vitamins you need
, take the
Weil Vitamin Advisor
. This 3-step questionnaire requires just minutes to complete, and generates a free, no-obligation vitamin and nutritional supplement recommendation that is personalized to meet your unique nutritional needs.
Lower Your Blood Pressure Naturally
RESPeRATE™ is the first medical device clinically proven to lower blood pressure with no side effects. This revolutionary device harnesses the power of breathing to lower blood pressure naturally. Featured in Mayo Clinic's "On High Blood Pressure," Doctor recommended.