3 Reasons to Eat Cantaloupe
Published: 07/05/2013
Learn More:
Are Vaginal Lubricant Products Harmful?
Related:
Women's Health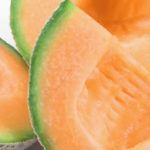 Cantaloupe is a thick-skinned fruit with an outer layer that resembles a net. In peak harvest season during June, July and August, cantaloupe provides a refreshing, sweet and hearty treat, perfect for fruit salads and smoothies. A member of the same family as pumpkin, squash and cucumber, cantaloupe is:
An excellent source of beta-carotene
A good source of vitamin C
A relatively low-calorie food
Overall, it's a satisfying way to get your vitamins during the summer months. Diabetics should eat cantaloupe in moderation, as it falls in the medium range of the glycemic index.
You can identify a ripe cantaloupe by pressing your finger into the stem end – a gentle yielding indicates ripeness, as does a distinctive, sweet aroma of cantaloupe flesh you get when holding the whole melon close to your nose.
Try cantaloupe in our Summer Melon Fruit and Two-Colored Fruit Gazpacho recipes!
Find out which vitamins are right for you.
Everyone's dietary needs are different based on a number of factors including lifestyle, diet, medications and more. To find out
what vitamins you need
, take the
Weil Vitamin Advisor
. This 3-step questionnaire requires just minutes to complete, and generates a free, no-obligation vitamin and nutritional supplement recommendation that is personalized to meet your unique nutritional needs.
What's In Your Breakfast?
Is your breakfast fueling your day or dragging you down? Start making the "most important meal of the day" count, with the healthful, delicious and satisfying recipes from Dr. Weil on Healthy Aging. We have hundreds to choose from, along with shopping guides and tips. Start your free trial now and save 30% when you join.